Tel Aviv, on second thought: what you should do
After living in Tel Aviv for a month, I have a few things to add to my first impression of the city - including suggestions on new places to eat and drink
I've been home in Toronto for a couple months, and it's official: I miss Tel Aviv. I miss the beach, the endless opportunities for enjoying the outdoors, the cafes with wifi on the patio, the colourful food, the dry Mediterranean heat, and (perhaps most of all), the soft, fluffy pita bread.
I miss the novelty of being in such a urban, progressive city in the middle of a fairly rural and conservative country. I miss Tel Avivians, who have so much love and pride for their home, and who are so hospitable and always happy to recommend new places to eat and things to do. I miss the stray cats, with which the city is rampant, who always have a word or two to say as you walk by. I even miss how self conscious all those superfit Tel Avivians made me feel at the beach, on the boardwalk, and on the street as they walked, jogged, biked, or yoga'ed beside me.
If it has not already become clear to the reader, I fell in love with Tel Aviv when I was there in the Spring of 2016.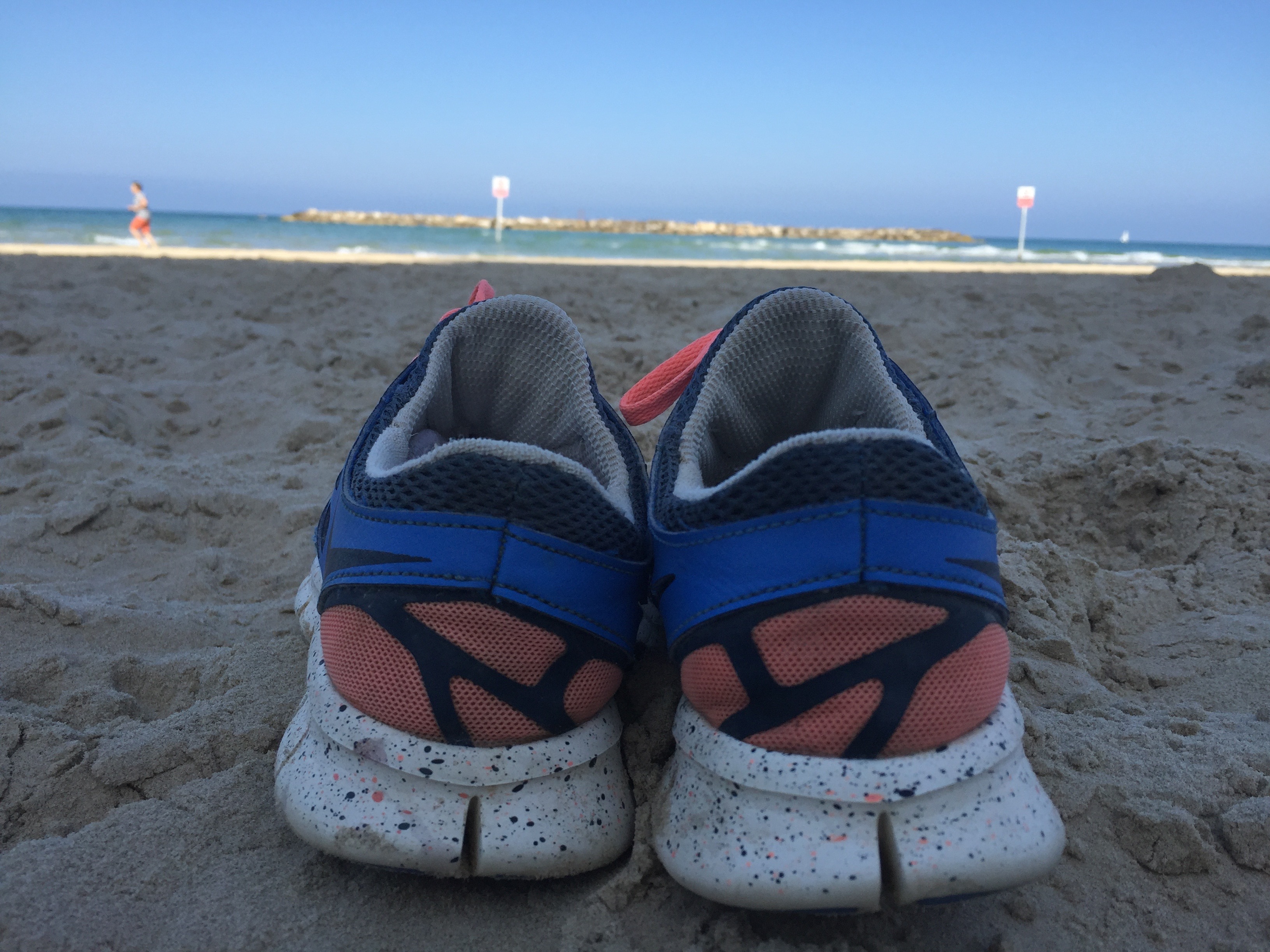 Every morning, I would get up and run along the Mediterranean between where the soft sand and the sea meet. I would then peel off my clothing and fall into the water. I would swim out until my feet could no longer touch the ground and stare out at the endless blue in front of me while my body started to cool down. If that sounds poetic, it's because it was.
After this bliss, I'd move to my next. I would walk home at a glacial pace, soaking wet, in the mid-morning heat and hop into a cold shower. A coffee, some fresh, plain yogurt and local peaches and bananas would follow on our little balcony which overlooked Tel Aviv proper on one side and the sea on the other. It was all very romantic.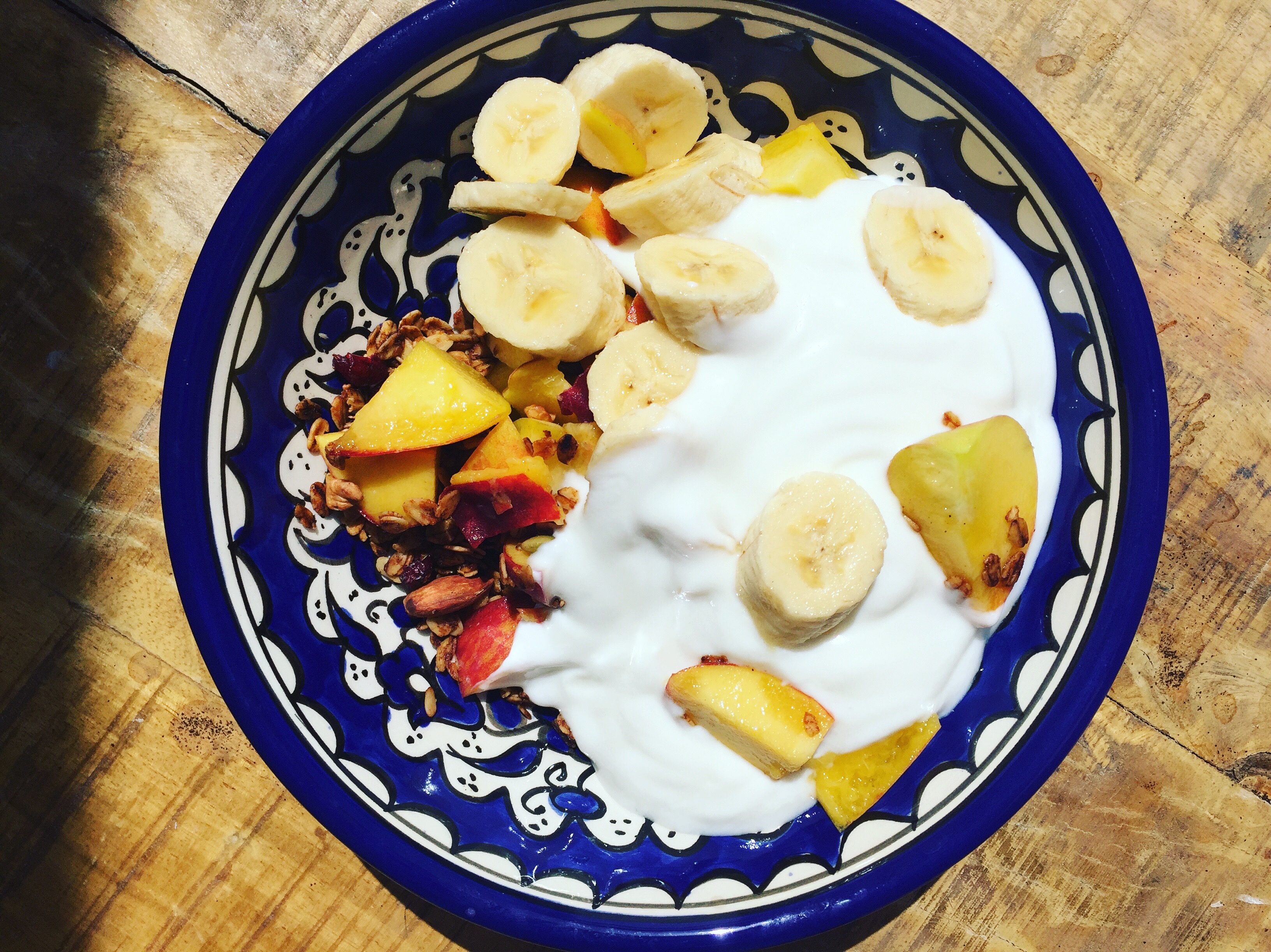 The days were filled with a couple hours of work either in our box of an apartment or at Cafe Xoho around the corner from us, which was, in addition to being an excellent place for food and coffee, a gathering place for American and Canadian ex-pats. For a few hours every couple days, it was nice to have a taste of home. Then, we'd head to the beach for a couple hours and enjoy a swim, a game of Matkot, and a book on our beach blanket by the water. Finally, we'd either make a little dinner on our electric burner with local produce or venture out to one of Tel Aviv's fine establishments to taste the flavours of the city.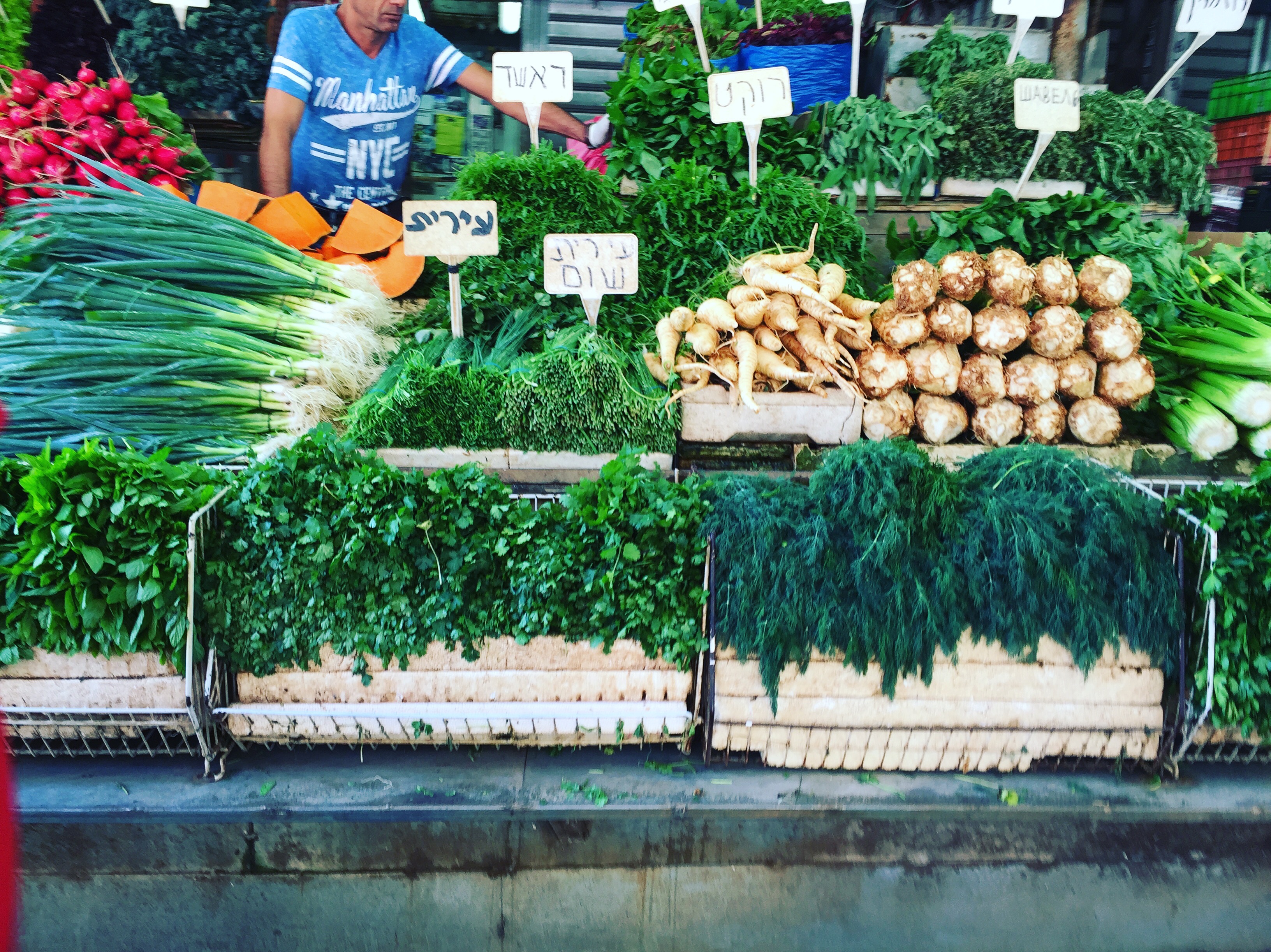 Things to do
In an earlier piece, I recommend paying Ha'Carmel Market a visit to pick up some fresh, local produce and goods (cheese, fish, and meat also sold there) and making a little picnic for yourself on the beach. This is still sound advice, but I have more to add.
Grab a Matkot set and play on the beach
You can pretty much find anything you want in Ha'Carmel market; spices, kitchenware, jewellery, food, school supplies, and clothing stands line the narrow street. It's worth going just to look at all the stuff. There are few things you can do that are more Tel Avivian than playing a game of Matkot on the beach. There are no rules to this game, as I understand it, except to hit the ball back and forth as many times as possible. You can buy a set of paddles and a ball for pennies in the market - it will provide hours of entertainment for you and a partner on the beach.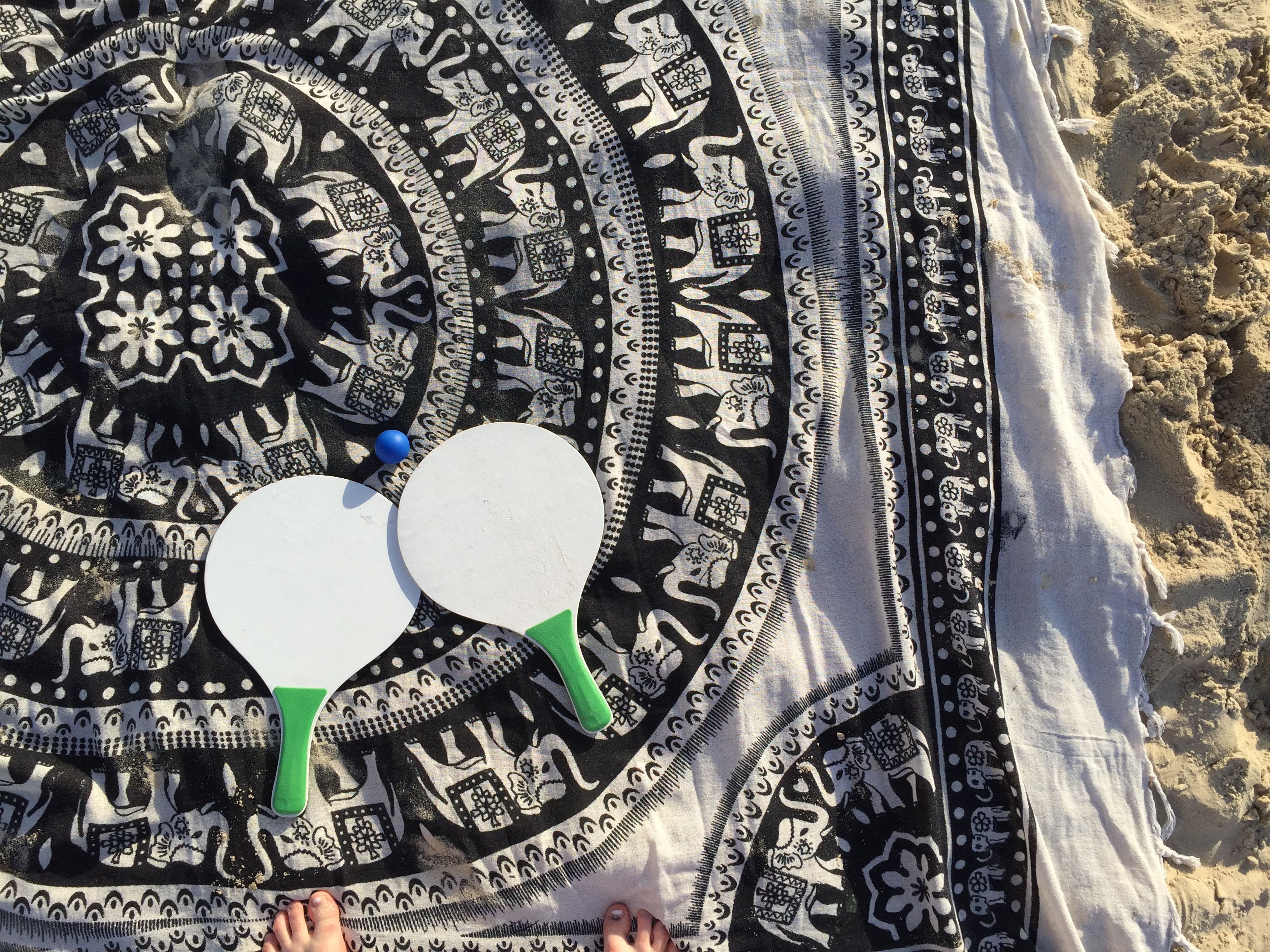 Enjoy the night life
Hit up Pasaz for great live music. Pasaz does everything from lively Afro Jazz to Indie Rock, and their performers do it well. When you're nicely drunk enough, enjoy a more after-hoursy vibe at Radio EPGB, where they will play all the Drake and old school hip hop you will need at this stage of the night. If you're not in the Radio neighbourhood, Kuli Alma is also very popular and loads of fun. And, if you're up for a more low-key night, grab drinks and finger food at Beit Haamudim and listen to the gorgeous, soft jazz coming from inside.
Tel Aviv is the city that never sleeps. No - seriously. The bars don't close until you leave. Be sure to take advantage of that at least once :)
See Guy Sharett for a street art tour and more suggestions on what to do in the city
Tel Aviv is a city bursting with art - you see it everywhere you go. It's on the walls, inside homes, bars, and on the streets. I know this because Guy Sharett showed me around, explaining the various murals, their history, and the artists who painted them. I wouldn't suggest coming to Tel Aviv and missing this. There's nothing like a local's perspective on his own city. Plus, his tour is super affordable (100NIS for 1.5 hours), so you can enjoy learning about this gorgeous city and still have money for dinner.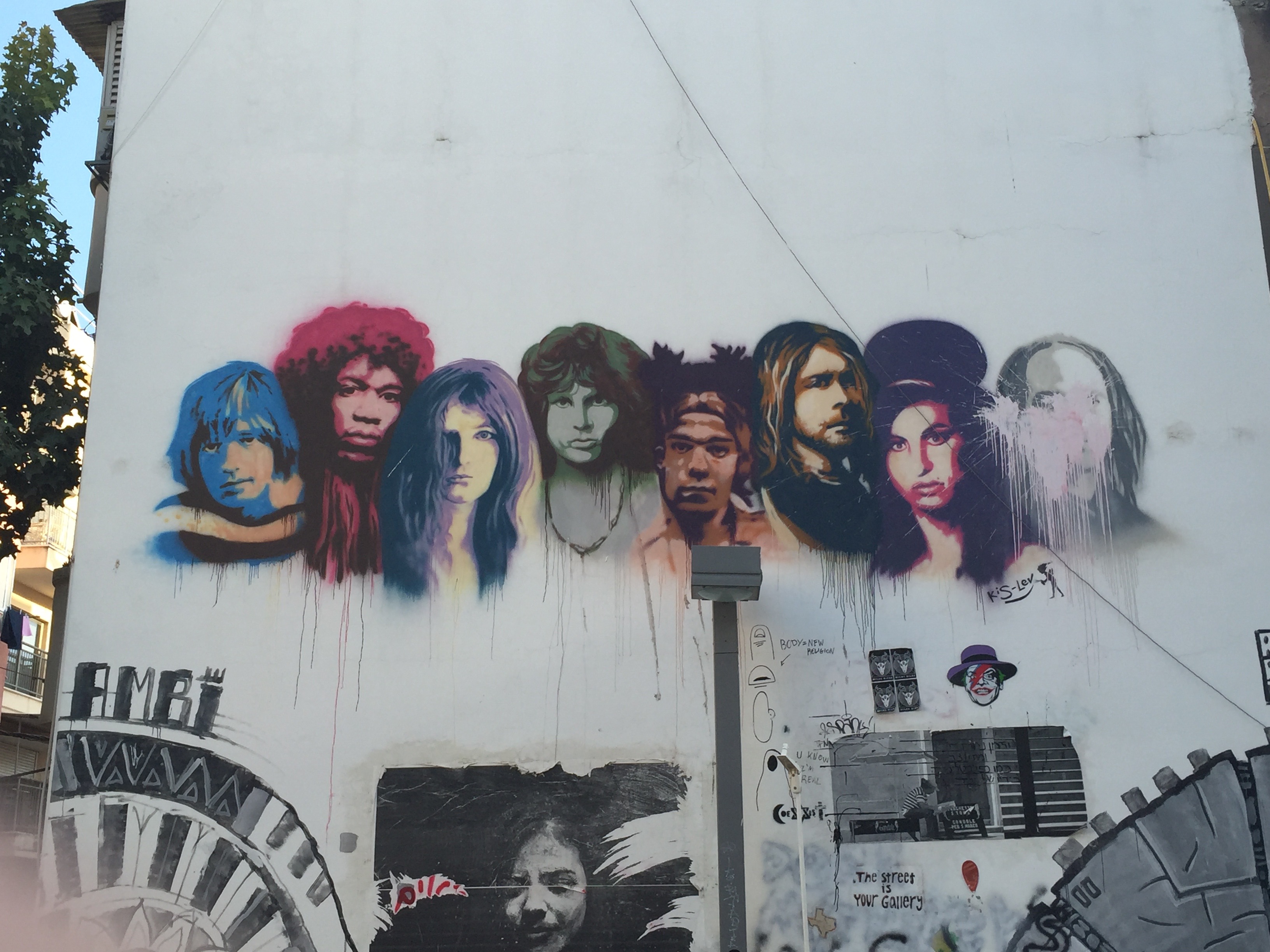 But don't just take it from me
There are a couple great online resources that you can consult to find out what's going on in Tel Aviv the day/night you are there. We found these resources helpful:
A note on Shabbat
Make sure you organize your meals from Friday after 7pm to Saturday at 7pm - ensure you either have the means to cook at home or the restaurants you want to check out won't be closed for the Jewish day of rest.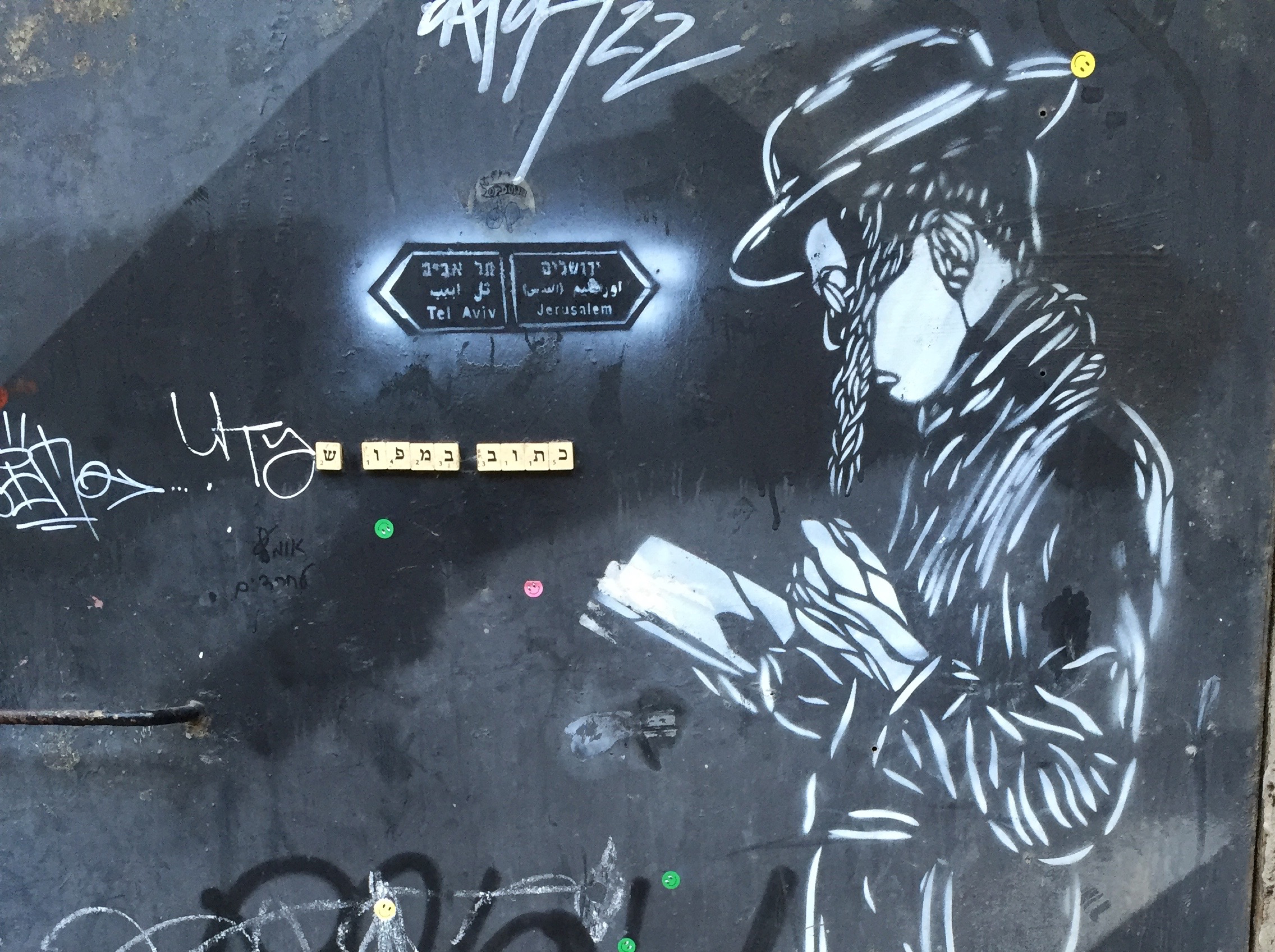 Where to eat
I echo my earlier advice about eating at Cafe Xoho, Puaa, Shakshoukia, Little Prince, Pasta Basta, Da Peppe Pizzeria Napoletana, Falafel Gabay, Shlomo & Doron, and Manta Ray. Being in Tel Aviv for longer only re-inforced my love for these places, and allowed me to discover a couple more places to eat... and a couple I wouldn't visit again.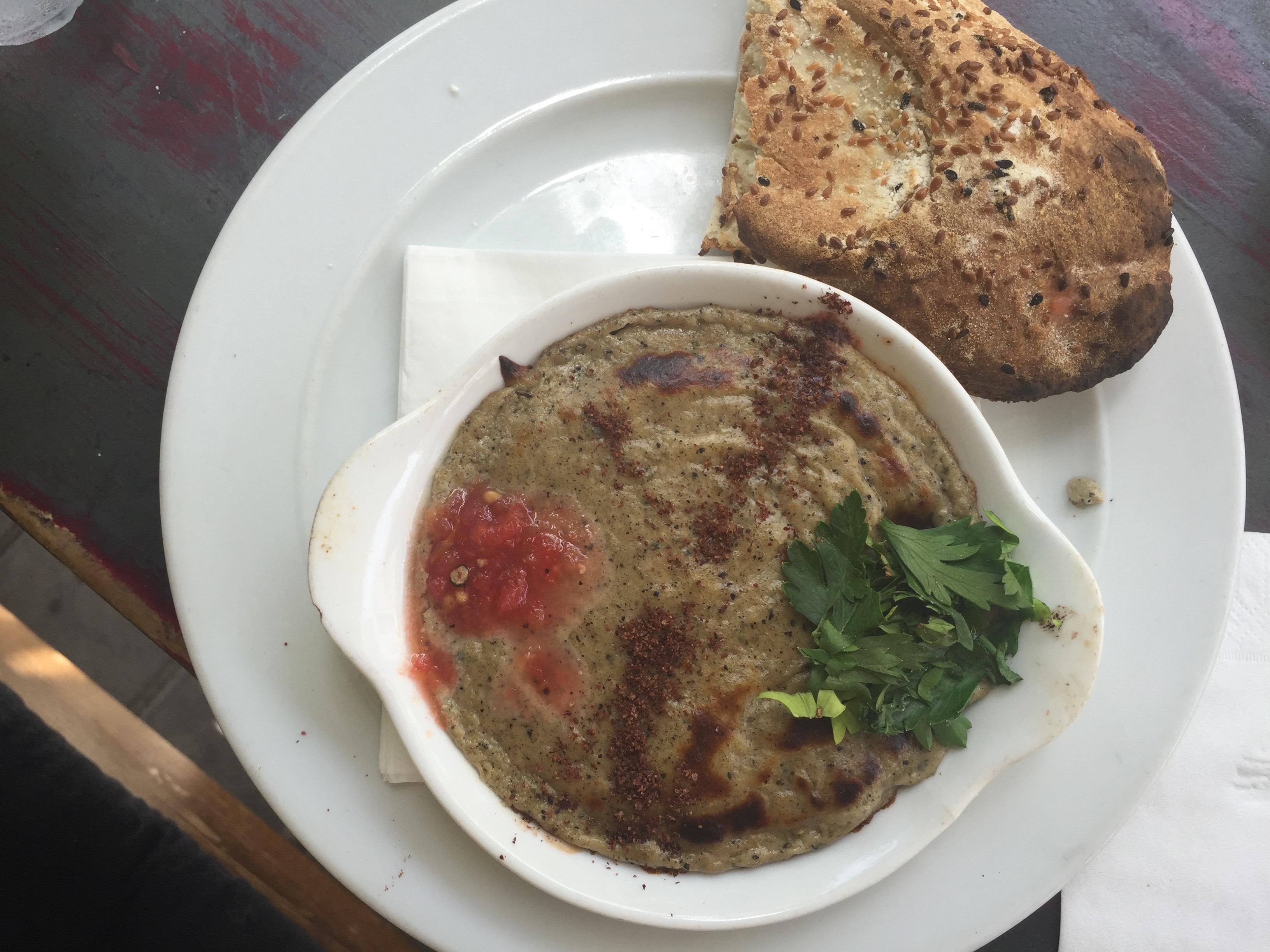 Wineberg
This little bar, just steps from the beach, boasts a sophisticated wine list with some local options and great finger food.
Head to Old North for a happy hour cocktail or after the sun has set when the groovy crowd emerges and fills Wineberg's patio and funky indoors with Tel Aviv's artists, foodies, and creative types. On multiple occaisions I enjoyed Wineberg's lovely baked bread with smoked, pureed, eggplant, their white-wine soaked figs stuffed with ricotta cheese, and/or a glass of their cheapest rose. Pro tip: if you go during the day, you can sit in the shade with your laptop or notebook and get some writing done as you become incresingly inebriated by the wine and midday Tel Aviv heat.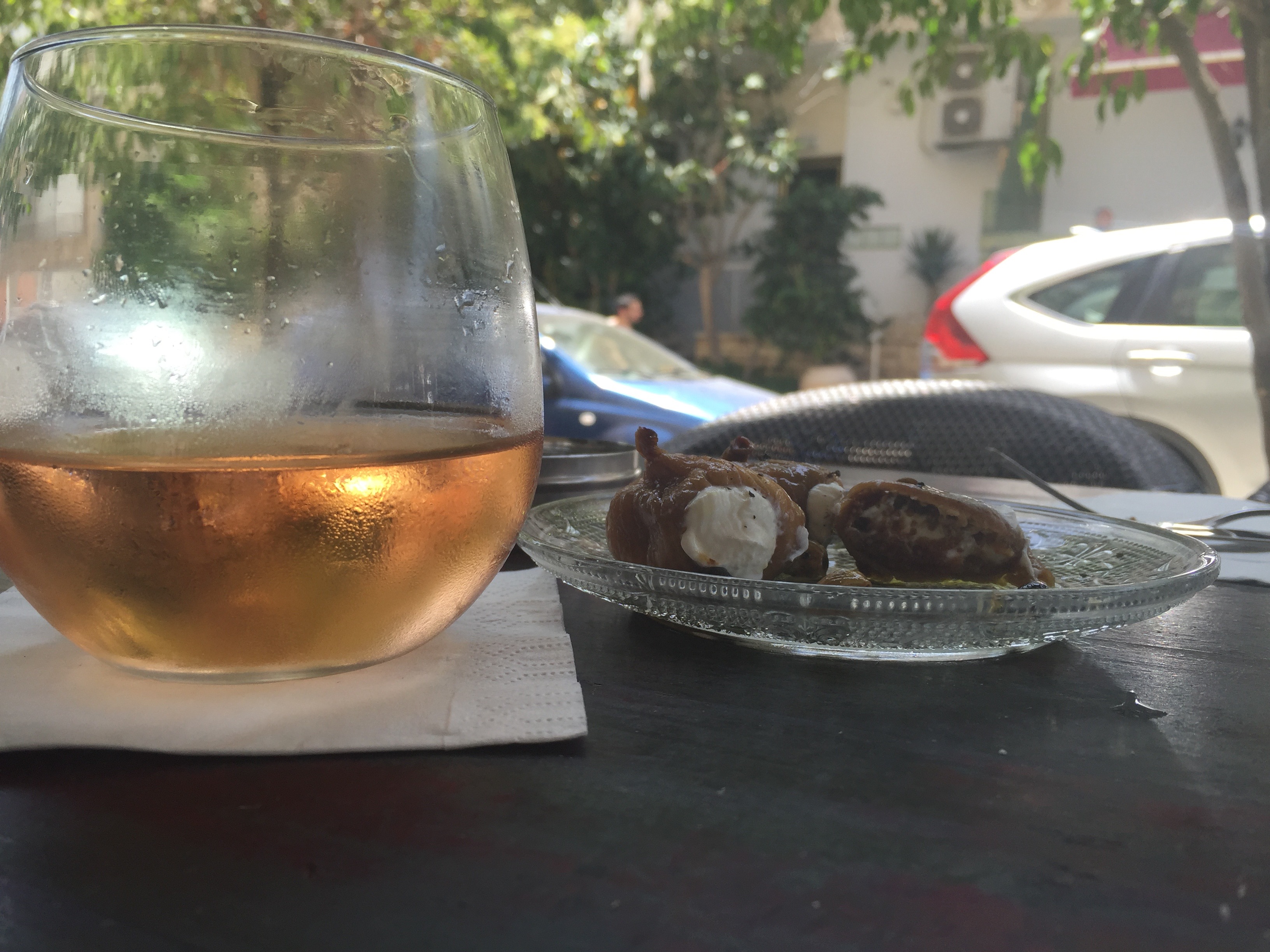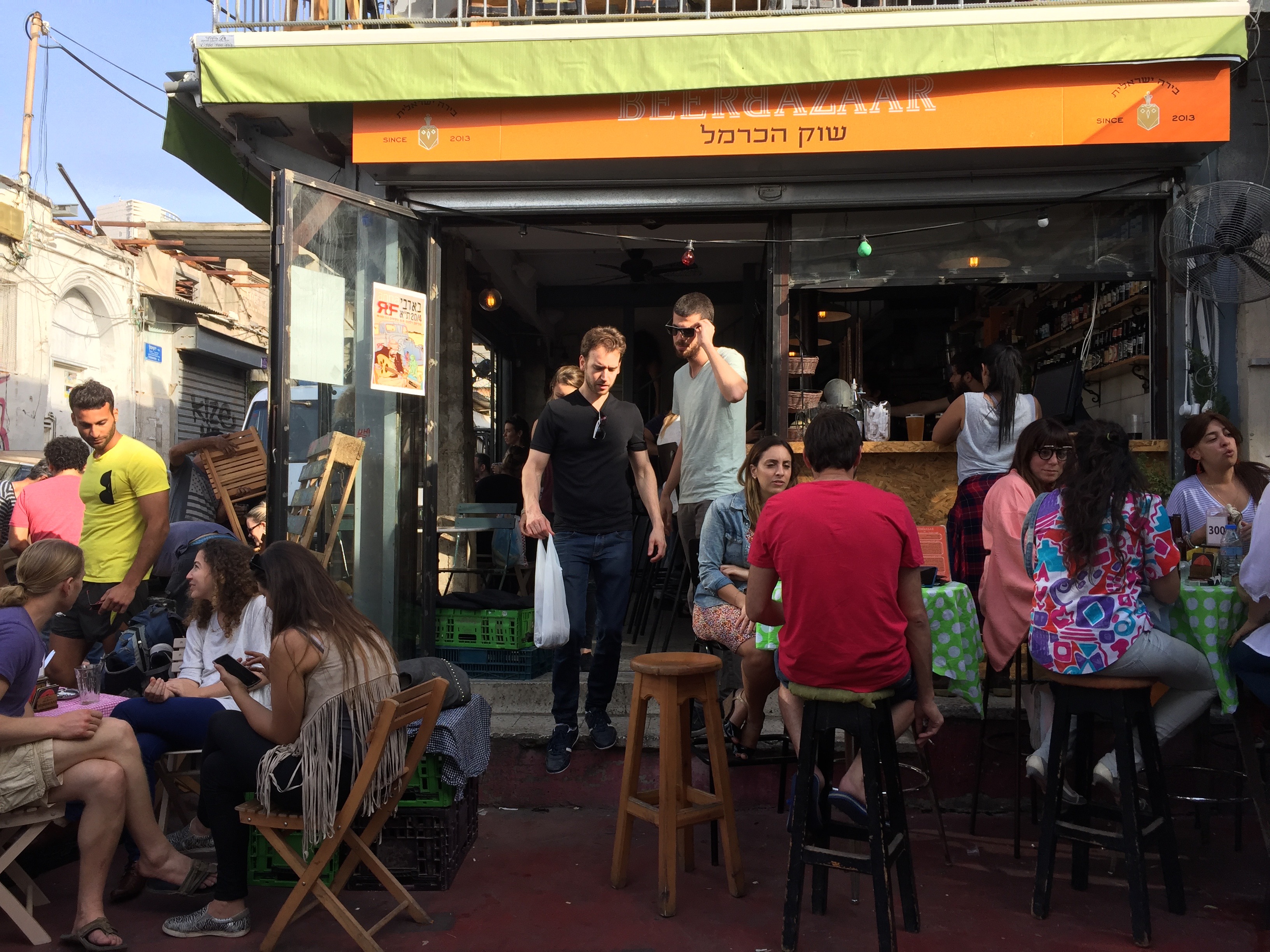 Beer Bazaar
When you're in Ha'Carmel Market and you're sweating and becoming clausterphobic after an afternoon of shopping, hang a right off the main road onto Rambam Street.
Pull up a chair, milk crate, or box at a makeshift table at one of the only places you can get craft beer in Tel Aviv. Especially on a Friday afternoon before Shabat, Beer Bazaar is bumping with hipsters from around the city who have come to hydrate themselves in the afternoon heat after a long week. Chow on their selection of cured meat or smoked fish and enjoy a local brew (or two... or five) until closing time.
Falafel Hakosem
You'll notice I don't have a photo for this one. That's because I ate my sandwhich too fast and greedily for there to be any record of me eating it.
But eat I did - and well. Hakosem was the best falafel I ate in Israel. The men behind the counter give you a falafel ball while you wait for your beautiful little fresh deep-friend chickpea ball, tahina, chopped parsley, tomato, red onion, and cucumber stuffed pocket of glory. The shawarma here is also extremely good if you're feeling carnivorous. It's tucked away just behind the Dizengoff Center, but it's worth the trip from wherever you happen to be. Trust me.
You can probably skip...
There are a couple super popular restaurants in Tel Aviv that I'm not sure are worth visiting. The first is The Old Man and the Sea. If you do go, order as little as possible because they bring you a spread of 25 complimentary salads and dips for (actually very good) pita they make in house. That's great and everything, but half of them are not very tasty and the rest are difficult to take for leftovers (inevitable if you are served TWENTY FIVE SALADS along with a main) due to their expiration date. You end up wasting a shit tonne of food, and the actual main courses were very over-priced and actually just bad.
Benedict's is also not that great. I think the hype around it is supposed to be that it's American-style brunch and it's basically open 24/7 (a.k.a. you can go after a night of drinking). We went twice - once after we'd been bar hopping (so I knew I could not be a proper judge of what was good/bad), and the second time on Passover. We did not return a third time because there was a short black hair sticking out of our guacamole on the latter trip.
---
I hope you go to Tel Aviv and enjoy the shit out of it. Please let me know if you found my advice useful or you think I missed anything by emailing me. If you'd like to hear from me when I publish something new, you can subscribe to my email updates here .