Sweet, Sweet TLV
A Canadian tourist's guide to Israel's most metropolitan city
Tel Aviv is a beautiful part of the world. From its architecture to its waterfront to its people, this city overwhelmed me from the moment I stepped out of the cab from Ben Gurion airport when I breathed in it's air and took in the view from our apartment.
Tel Aviv was sweet from the moment we arrived — both sensorily and aesthetically
The air, due to a combination of the sea breeze, the lilac trees, and hundreds of other flora which line Tel Aviv's streets, smelled sweet.
The people were sweet, too — eager to know where we'd come from (after they found out we couldn't speak a word of Hebrew) and to advise us on where to eat, drink, and what to see. They were genuinely excited for us to get to know their city. Tel Aviv's people were sweet, also, in the sense they were beautiful — just like the city they lived in.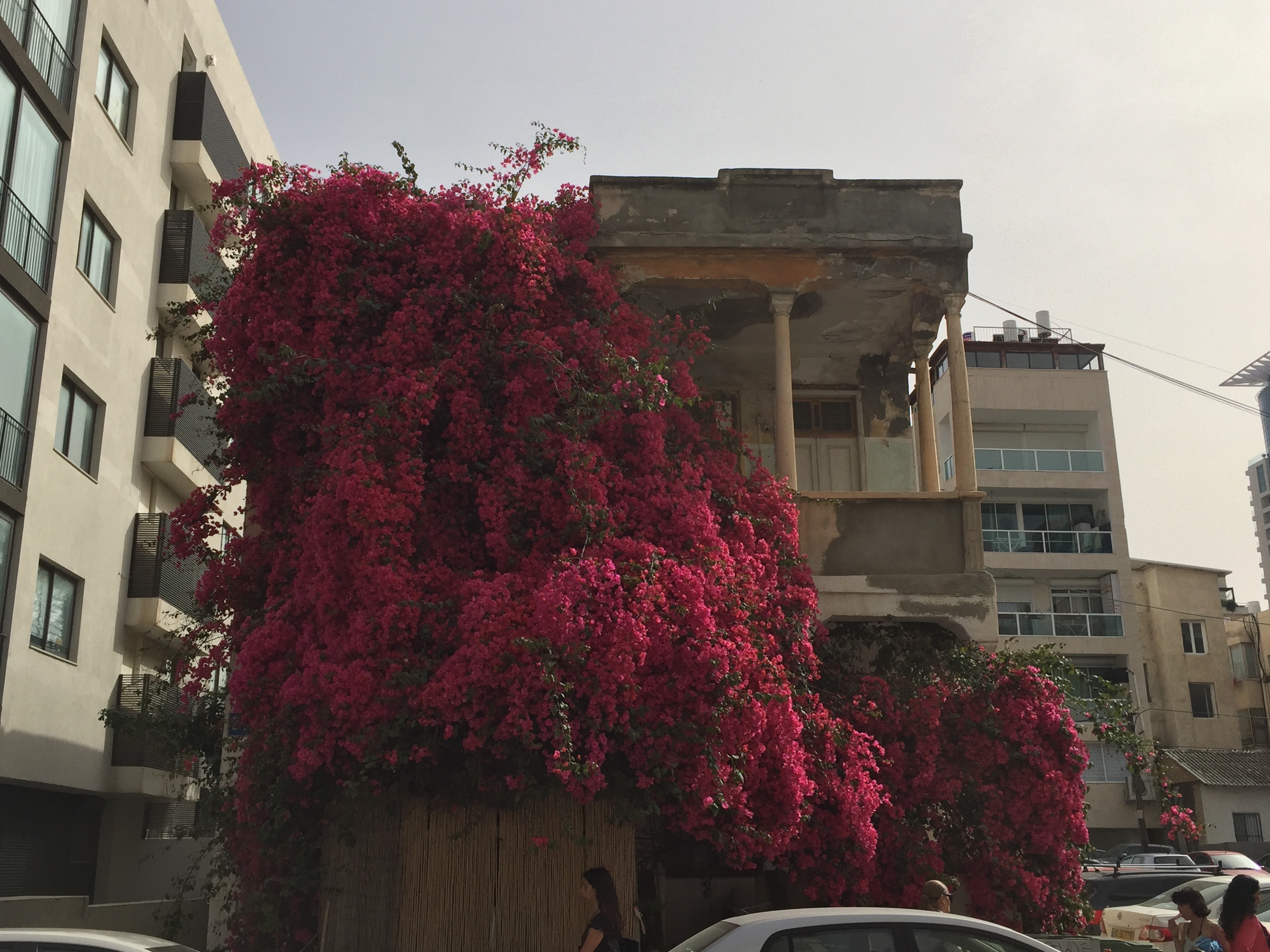 Okay, enough with the sweet talk.
Israelis, despite their sweetness, don't apologize for much, and probably found it odd to hear the very Canadian "sorry" come out of my mouth so many times in one encounter. Be it in their driving or in their food, Israelis do everything with an enthusiasm and boldness I rarely see in Canada.
This is refreshing, especially when it comes to food. At Shlomo & Doron, a famous hummus joint just steps away from Carmel Market, they serve their hummus with an entire white onion, which you are expected to break into pieces and dip in your hummus. For a Canadian palette, this is intense but thoroughly delicious. You can get two "small" size hummus and four fresh, thick pita for 40 sheckles (about $11CAD), which is a fucking steal because you cannot eat for two in Toronto for that price AND because you have plenty of leftovers to take home after. The menu is all in Hebrew, but the waiters will probably take pity on you and help you out. Or you could just take my advice and order the shakshouka hummus.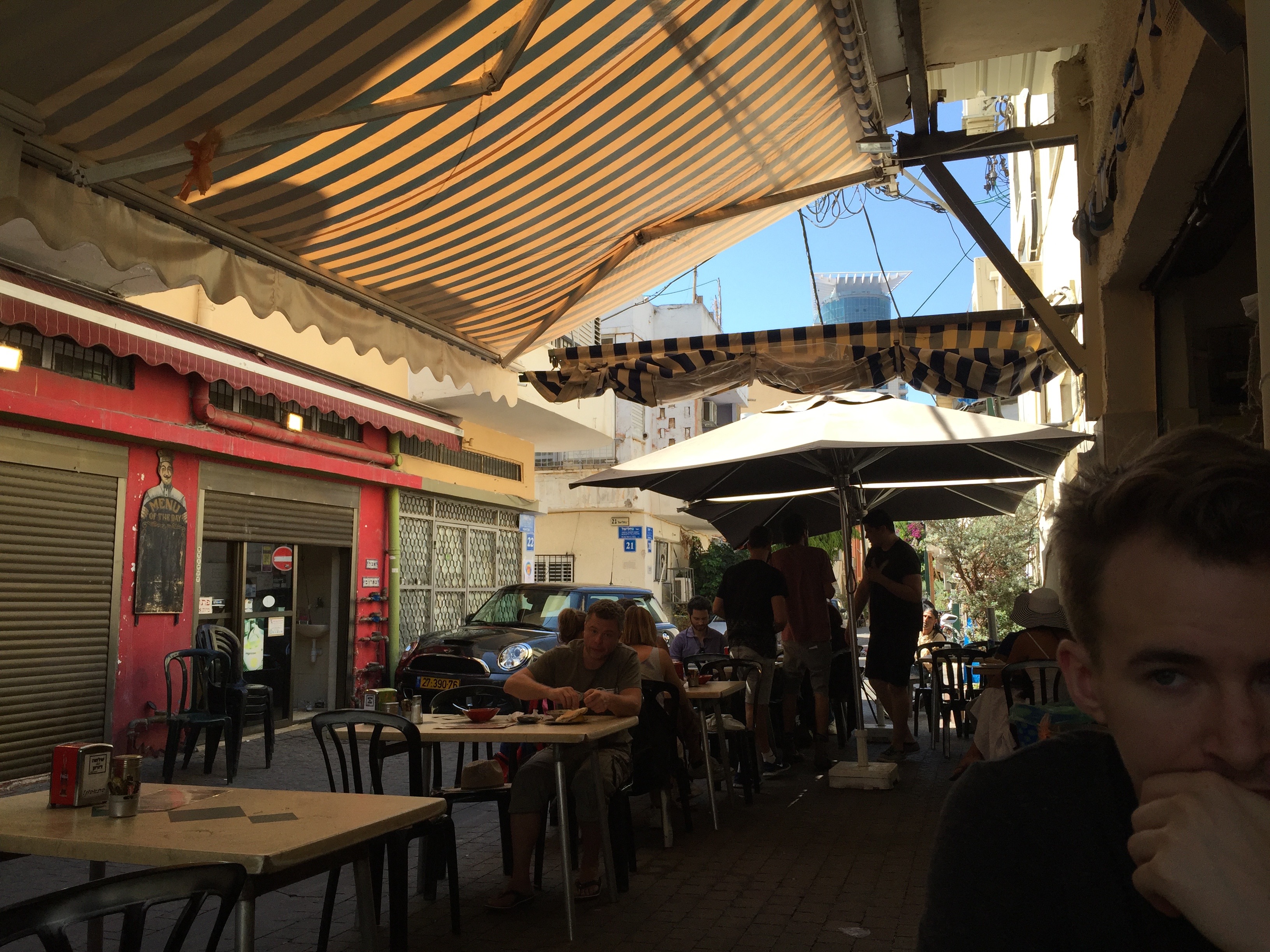 When you come to Tel Aviv, don't miss Carmel Market, a long series of shops and vendor stands along Ha'Carmel in Tel Aviv's centre where you can buy anything from locally grown fresh fruit and vegetables to fierce short shorts for sporting on Tel Aviv's gorgeous beaches. I highly recommend shopping for produce here one night and making a picnic dinner on the beach — not only is it cheap and delicious, but you actually can't eat food like this in North America. You will never taste tomatoes, strawberries, parsley, basil (need I go on?) with as much flavour.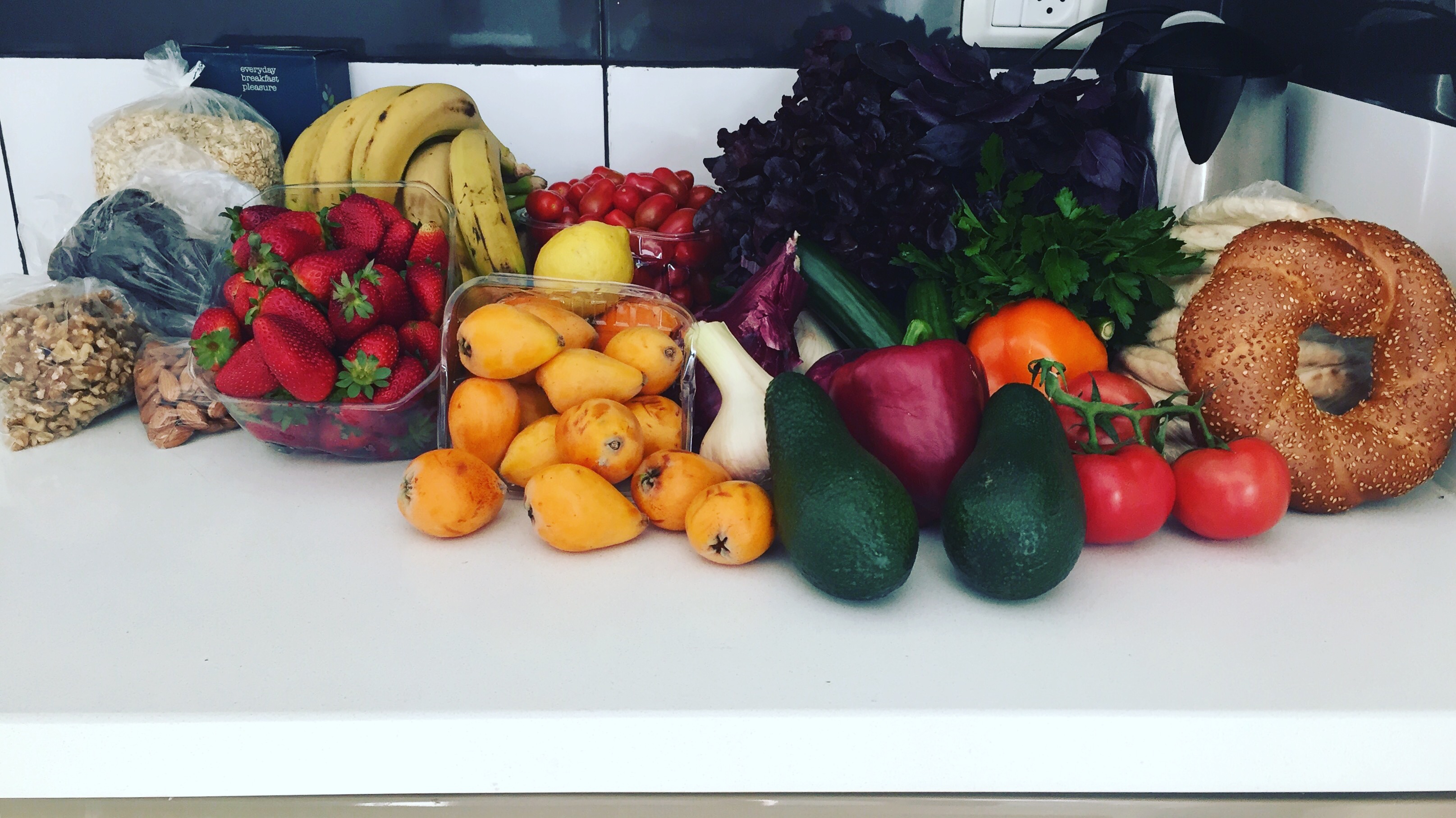 Speaking of spending money, when (and if) you're ready to splurge, you have to go to Manta Ray. The locals regard it as a bit touristy, but it is worth going for both the food and the view. Chill with your glass of Chardonnay on the beach while you dip fresh bread in their Eggplant Cream and snack on fresh mezze salads — which are, essentially, vehicles for ceviche and cooked fish that were caught that day. Then, stare at the sunset wondering how you can get Israel to adopt you.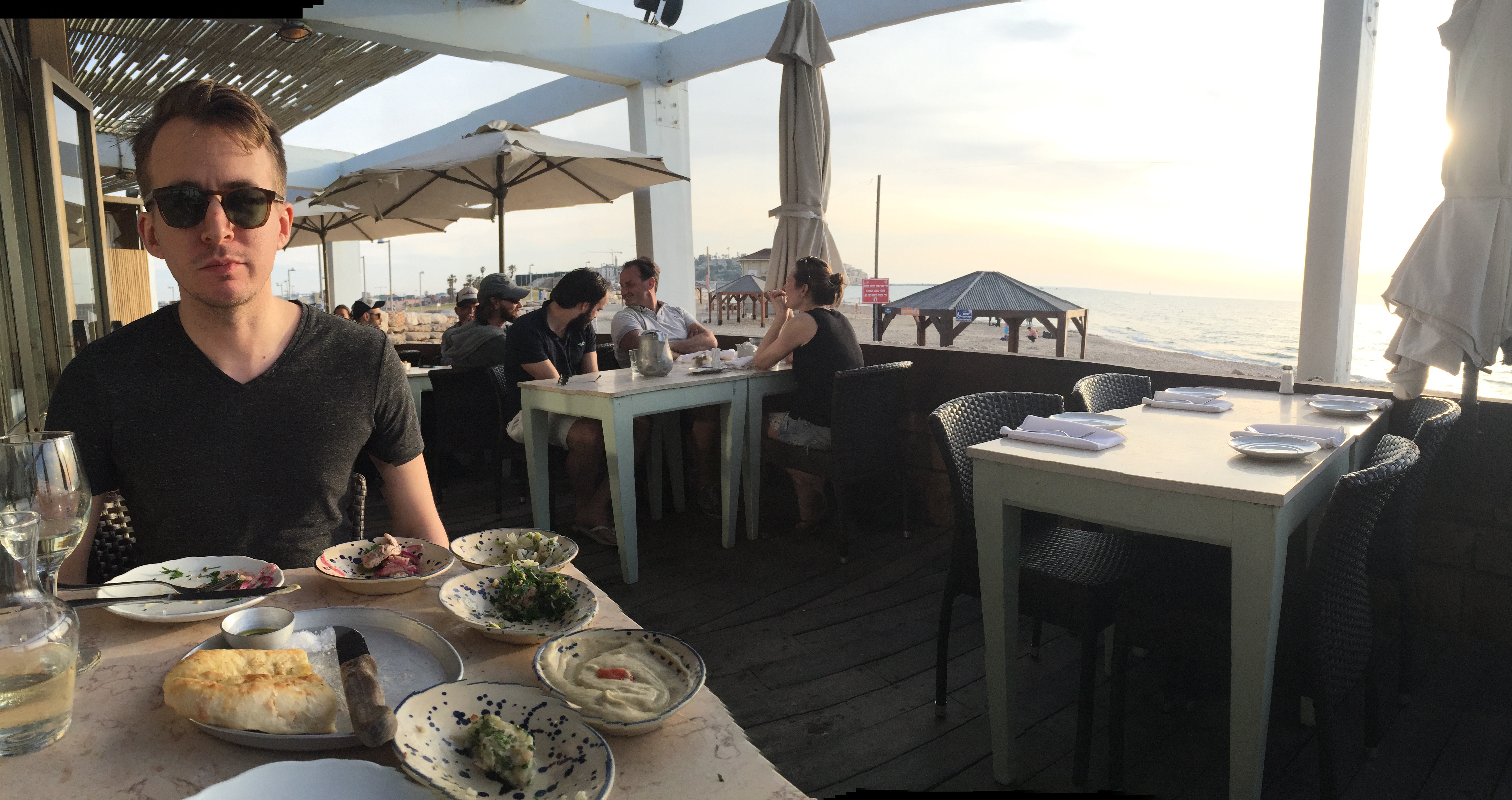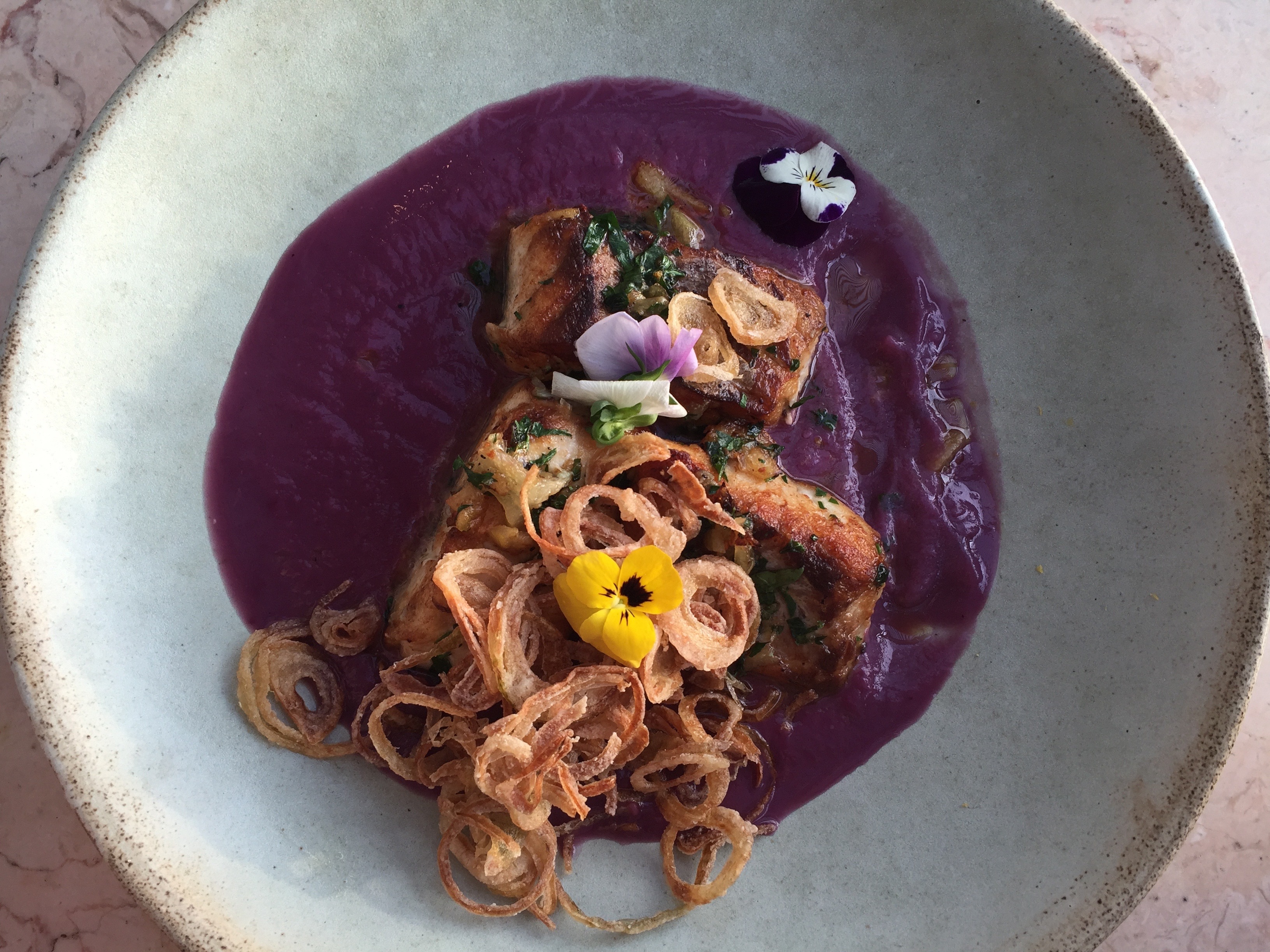 Eating is probably my favourite thing to do, so let's talk about some more places you can eat in this metropolitan paradise.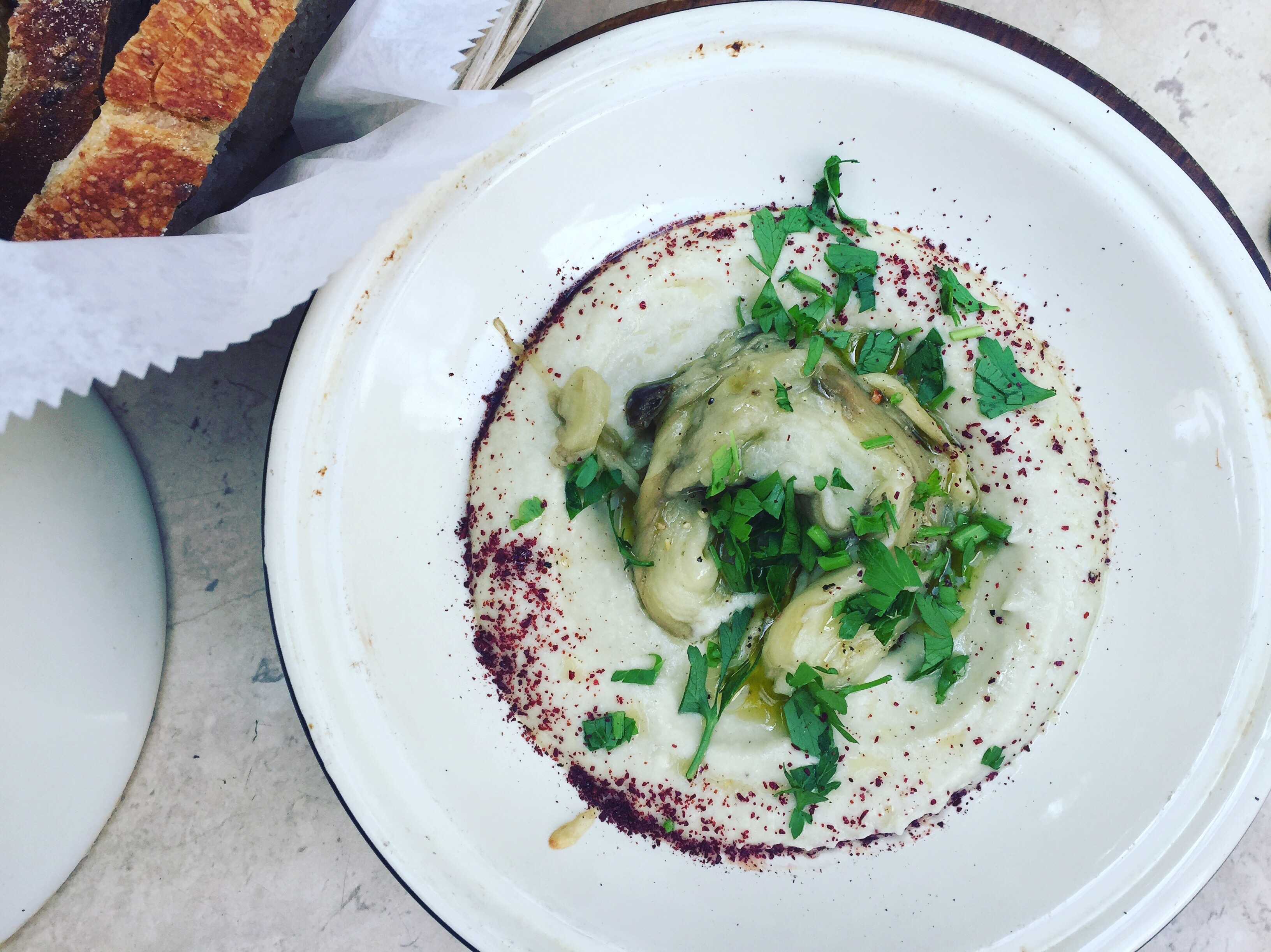 Little Prince
If you need to get some writing done while you're here, go to the Little Prince and sit on their back patio in the shade with your laptop or notebook.
Nom on some Scorched Eggplant Cream (not cream at all — just pureed eggplant with tahini) with fresh bread baked in house, a Sunnyside Up Bagel (New York-style bagel with soft cheese, scallions, and tomatoes with a dash of olive oil and a sunnyside-up egg), the chopped salad (an Israeli classic — tahini with chopped parsley, cucumber, tomato, and red onion), and sip a lemonade with your bitter espresso. I promise you won't regret it.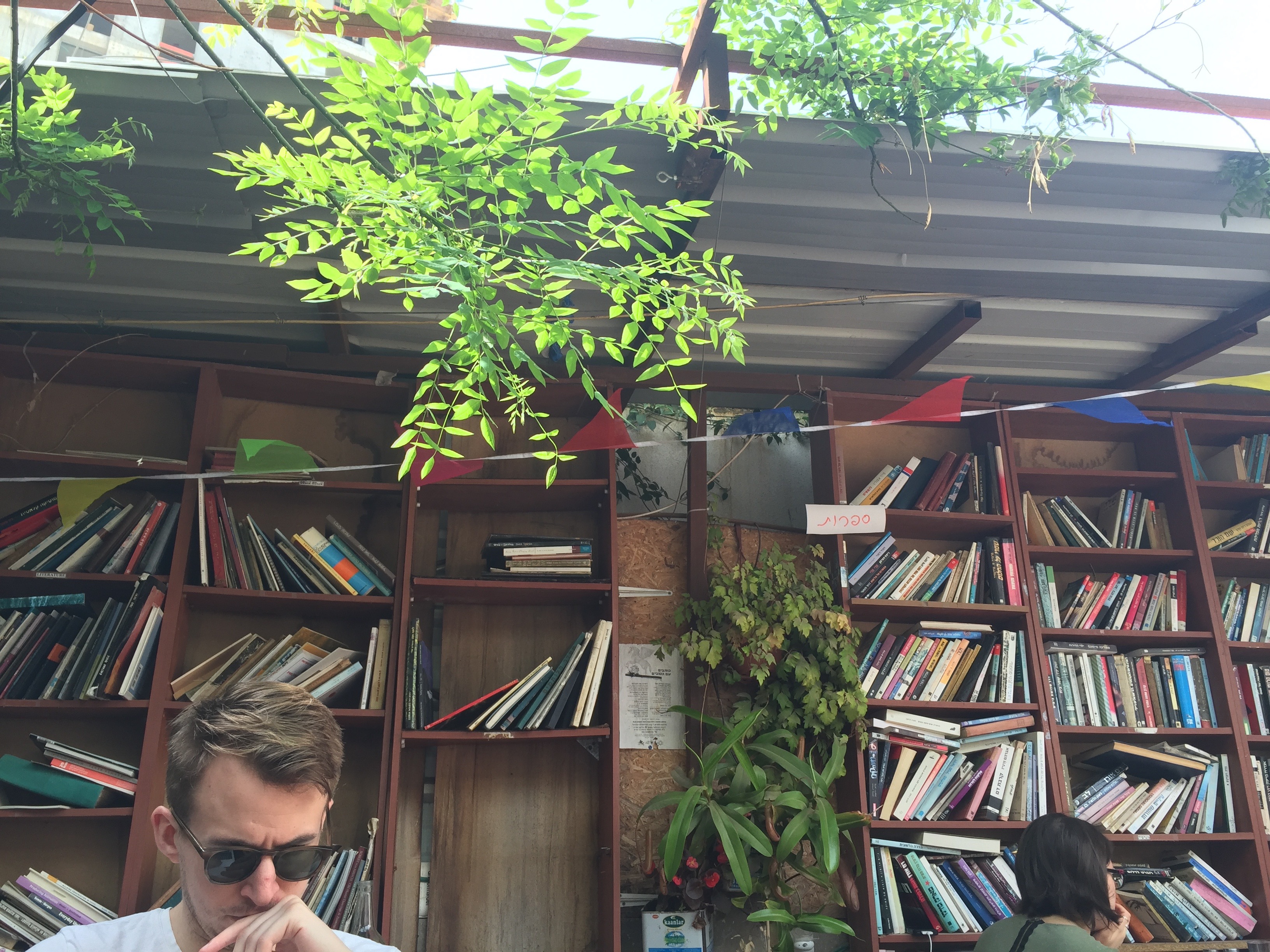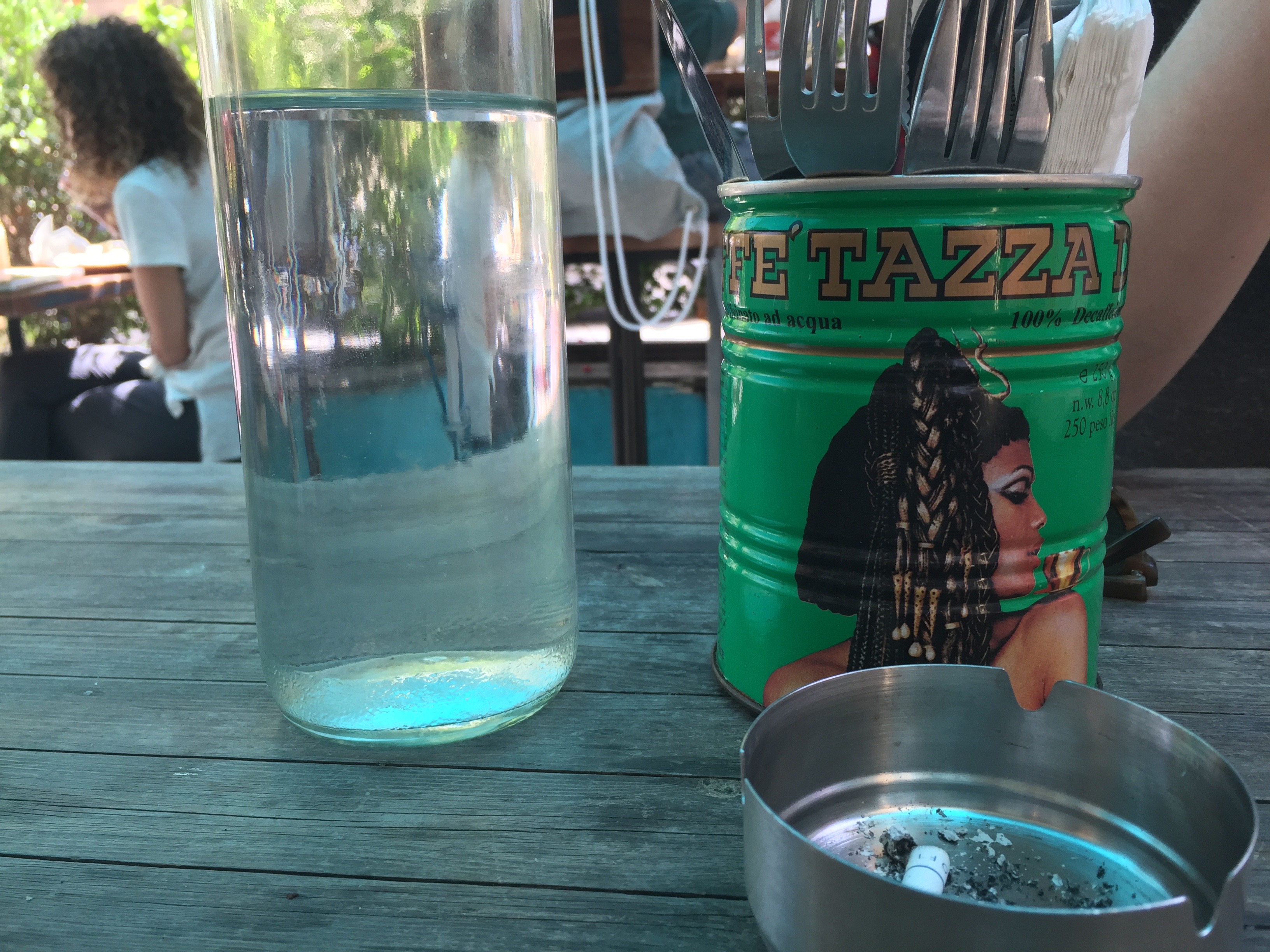 Cafe Xoho
A 10 minute walk from the beach, Cafa Xoho is nestled in some trees on J. L. Gordon street calling you to come in.
I was told this restaurant/coffee shop is run by a Canadian ex-pat (woop woop) who hires other ex-pats fluent in Hebrew and English to serve and run the place. As a result, you can find a lot of other ex-pats who dine and/or hang out here.
But don't let that scare you away — Cafe Xoho serves a combination of traditional Israeli fare and diaspora faves like lox and cream cheese on a bagel. Definitely get the kale salad with an egg on top and grab a matcha smoothie with halva, banana, dates, and honey to swig in the midday heat. If you're here for a few days, I highly recommend grabbing a jar of their granola on your way out to eat for breakfasts in your Air Bnb/hotel room. If you're on the go, pop by Brew Shop, Cafe Xoho's sister establishment, for some of the best iced coffee you've sipped on in your life and a baked treat.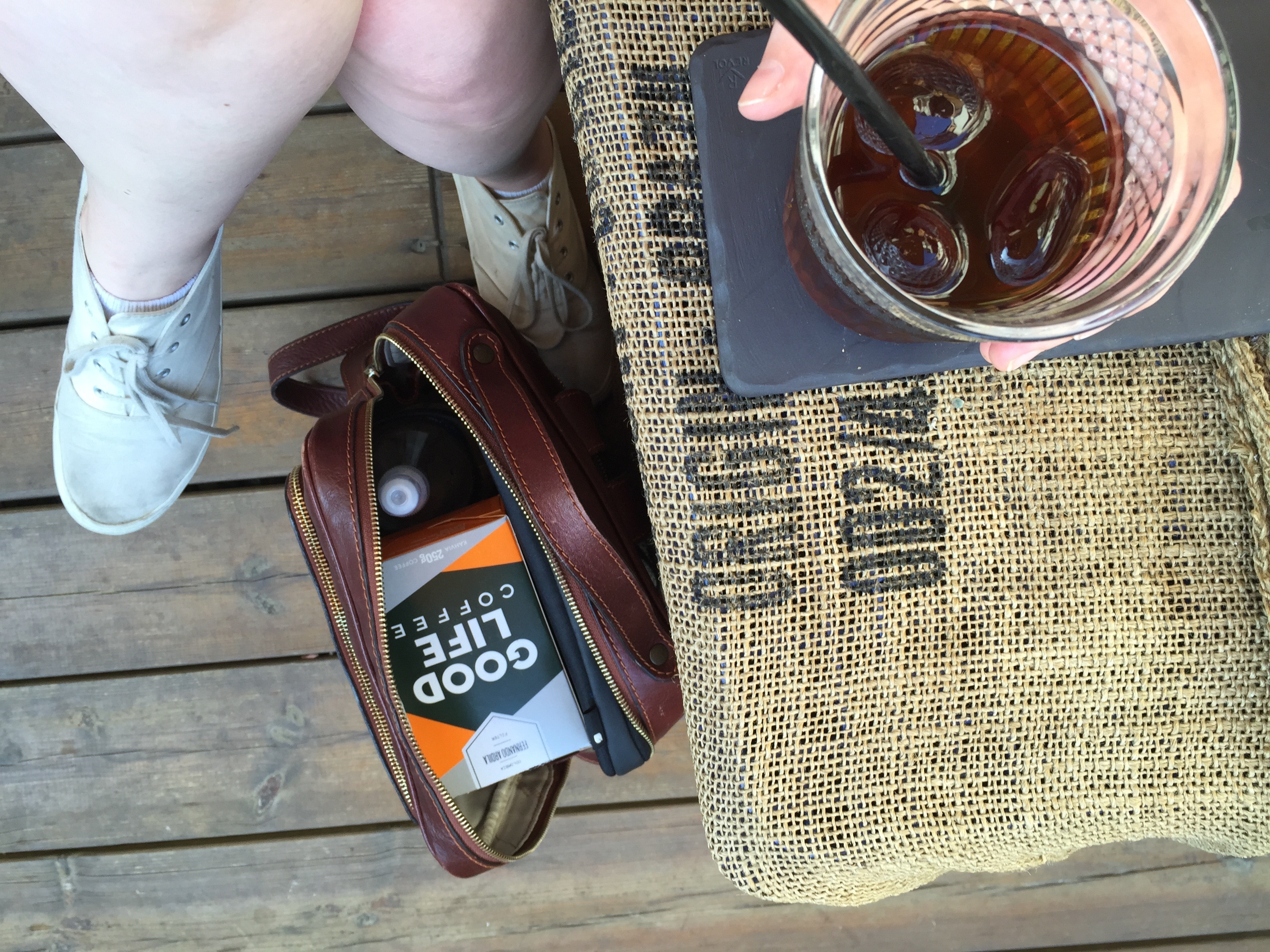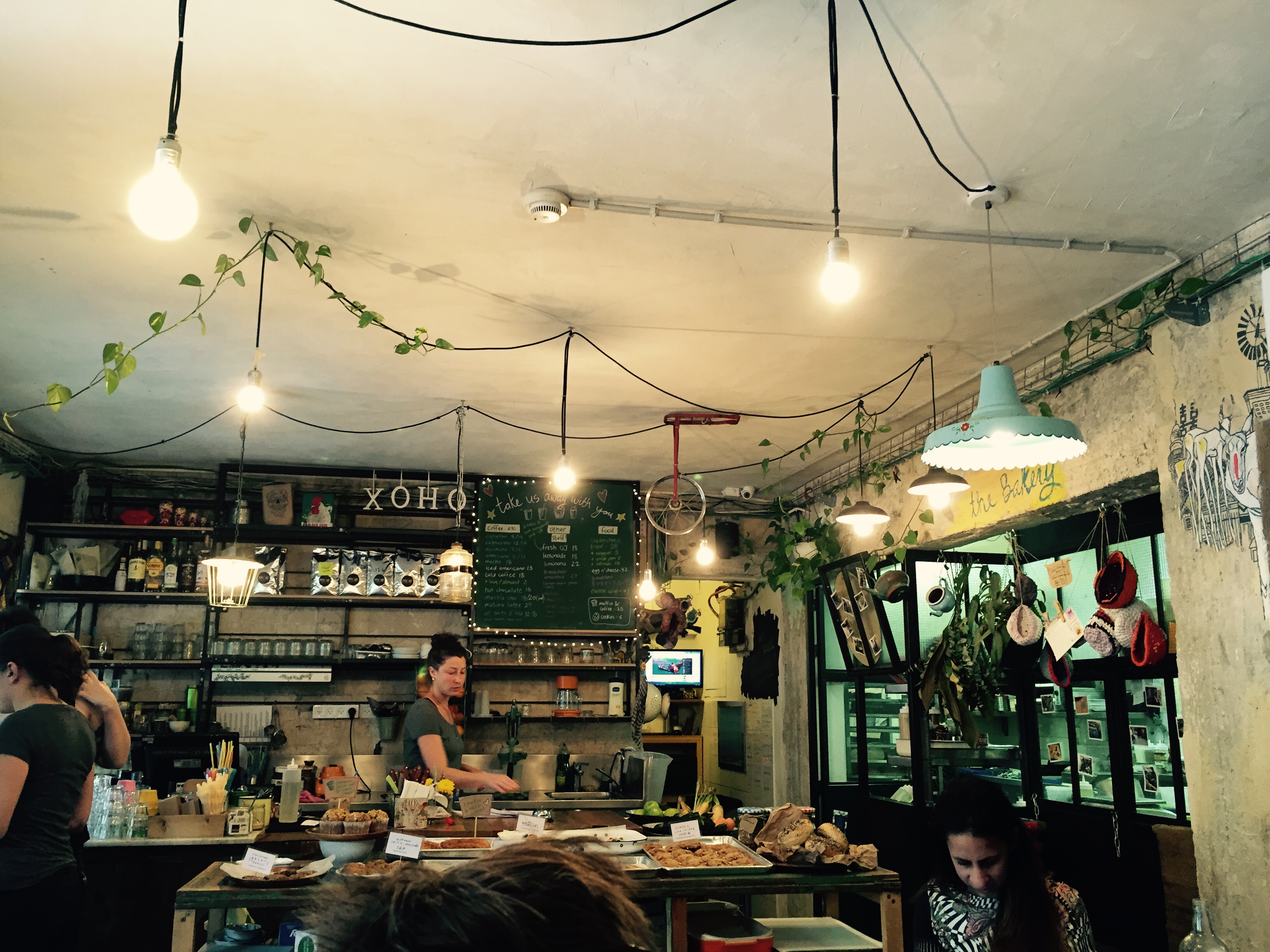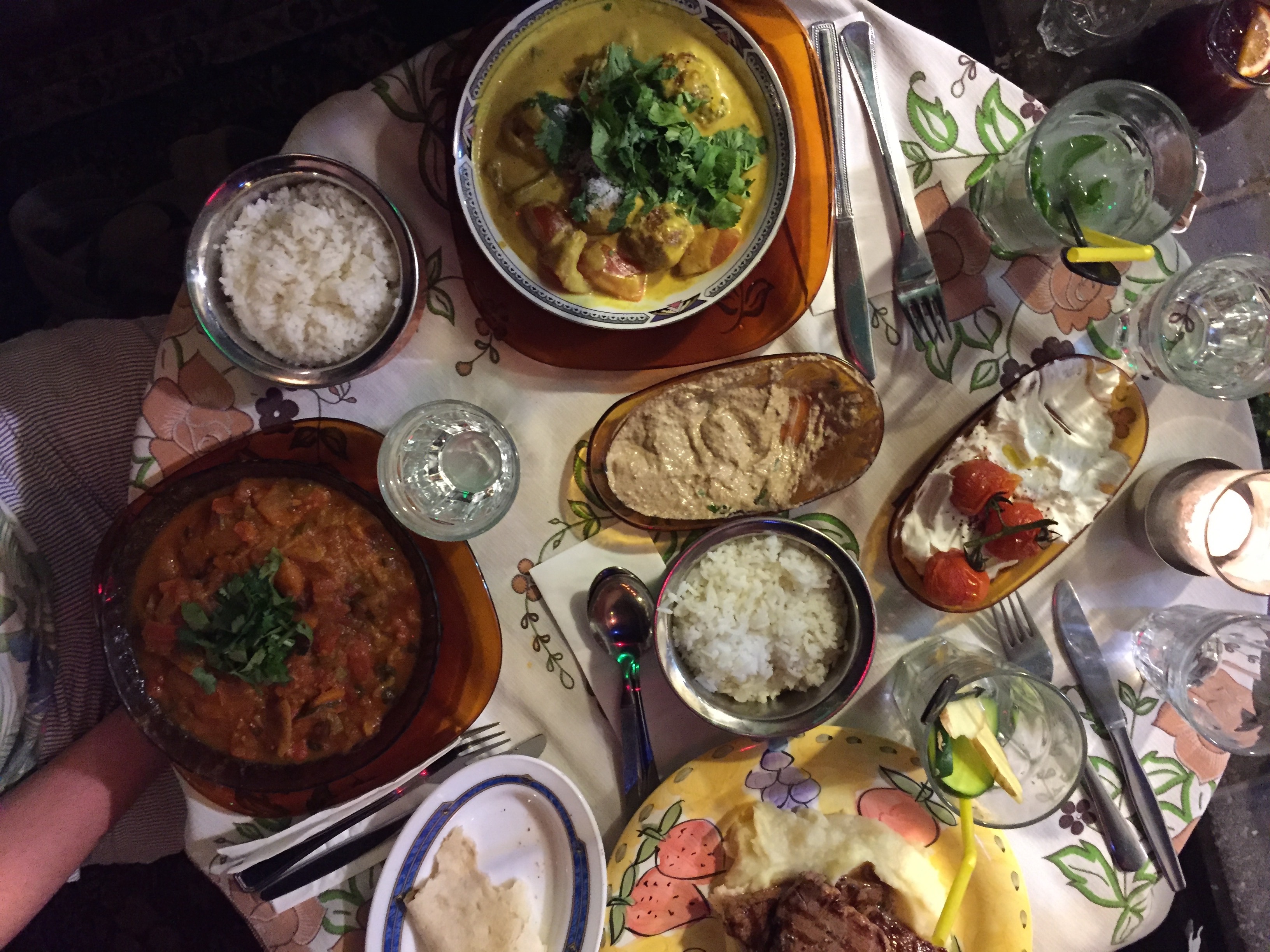 Cafe Puaa
We went here because of a recommendation by this article in the New York Times, which so far has not failed us.
Cafe Puaa is in the middle of the Jaffa Flea market, which makes it an excellent place for afternoon/evening drinks as vendors sell their goods and customers buzz around doing their shopping. Make your way to the flea, do some shopping, and then sit on Puaa's patio and sip an arak cocktail while watching the shoppers around you. While you're at it, munch on the Red Tahini (tahini blended with char-grilled tomatoes) and the goat labane cheese with some freshly baked pita. Breakfast here was also something I could enjoyed thoroughly (yeah, we went back).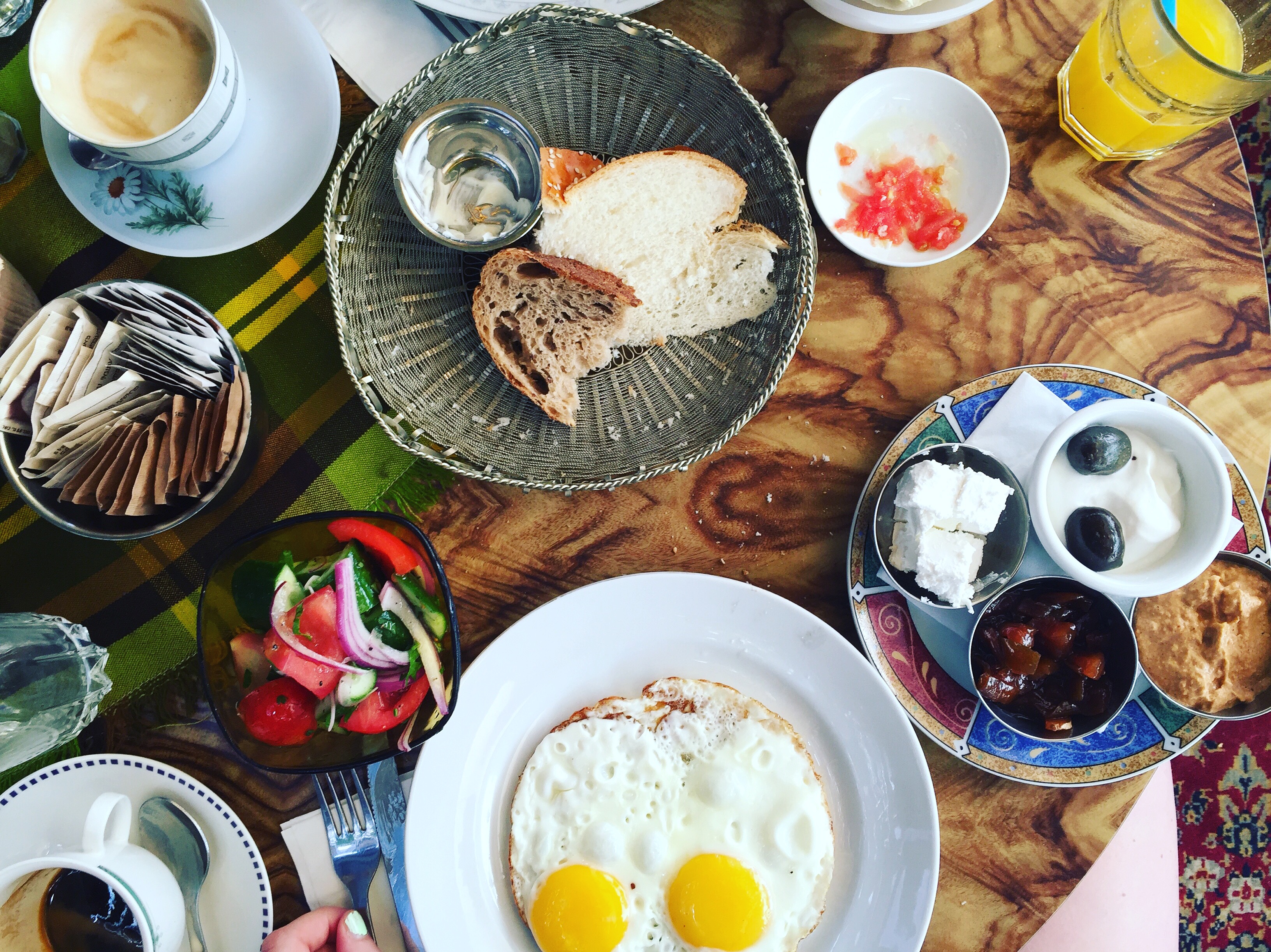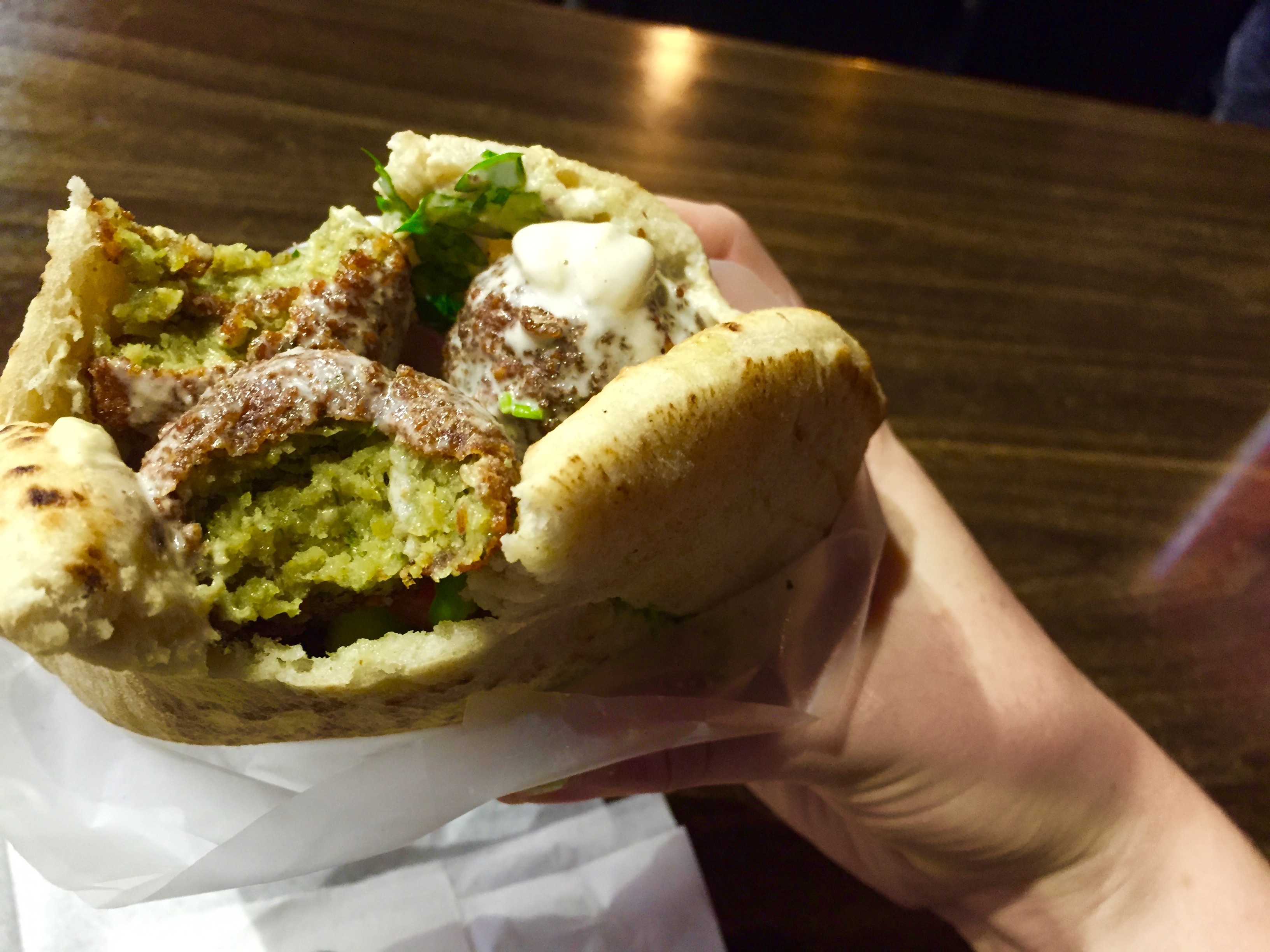 Falafel Gabay
Ha'aretz told me that Falafel Gabay was one of the best in Tel Aviv, so I went.
Unlike most of the falafel you'll get in North America which has been sitting in a heated metal tin all day, Falafel Gabay boasts some of the most scrumptious, fresh falafel sandwiches I've eaten.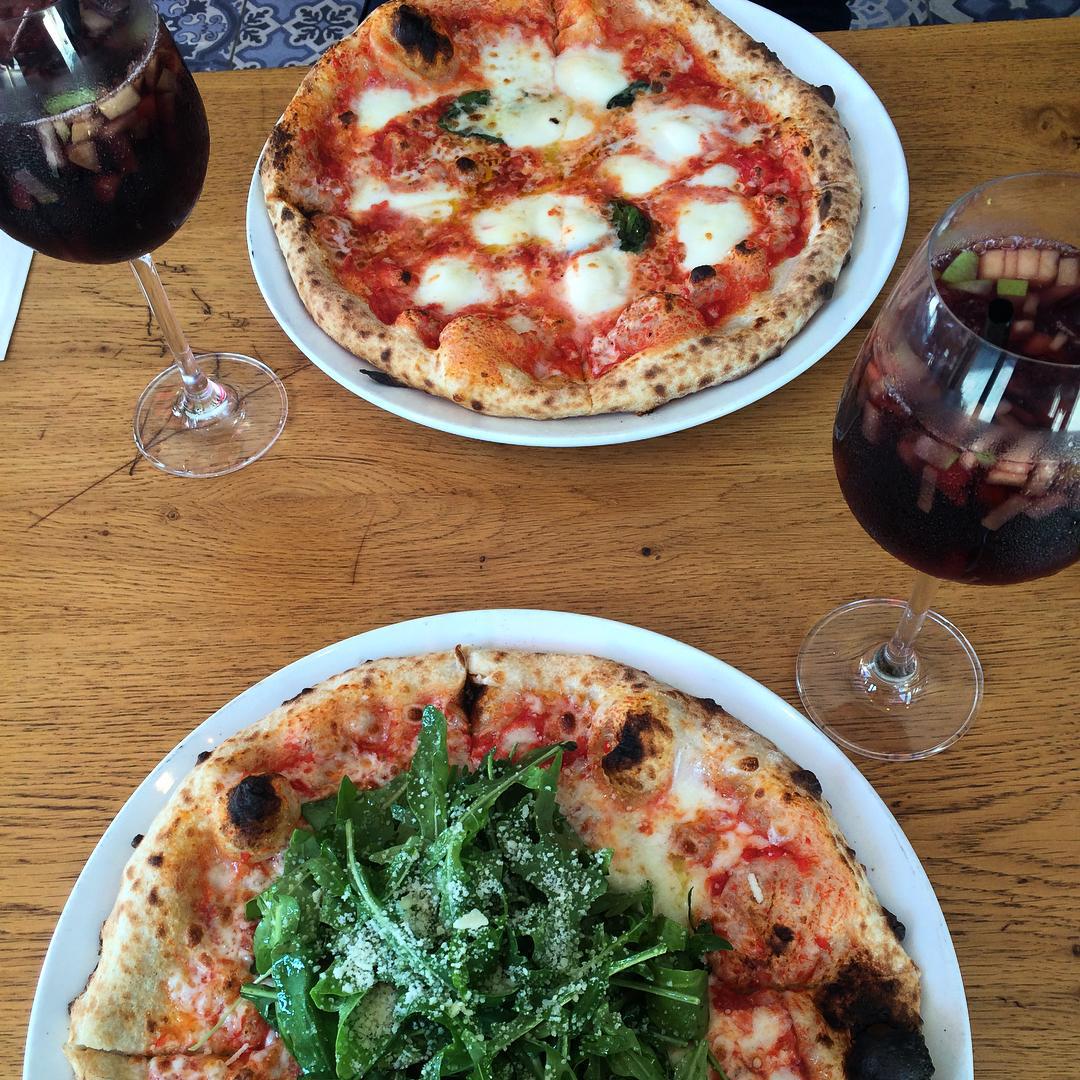 Da Peppe Pizzeria Napoletana
It probably seems a little unconventional, I know, to have a pizza place on this list — but this is a great spot. Truly.
Not only can you dine on delicious, doughy, pull-apart-y Neopolitan pizza, but it's also a great bang for your buck. Get a glass of wine and a pizza (that's just a little more than one person can usually eat) for about 70 sheckles (~$24CAD). But don't stop there, because you'll regret missing out on the Garlic Nuts (baked flour knots dipped in fresh, garlicky, parsley pesto).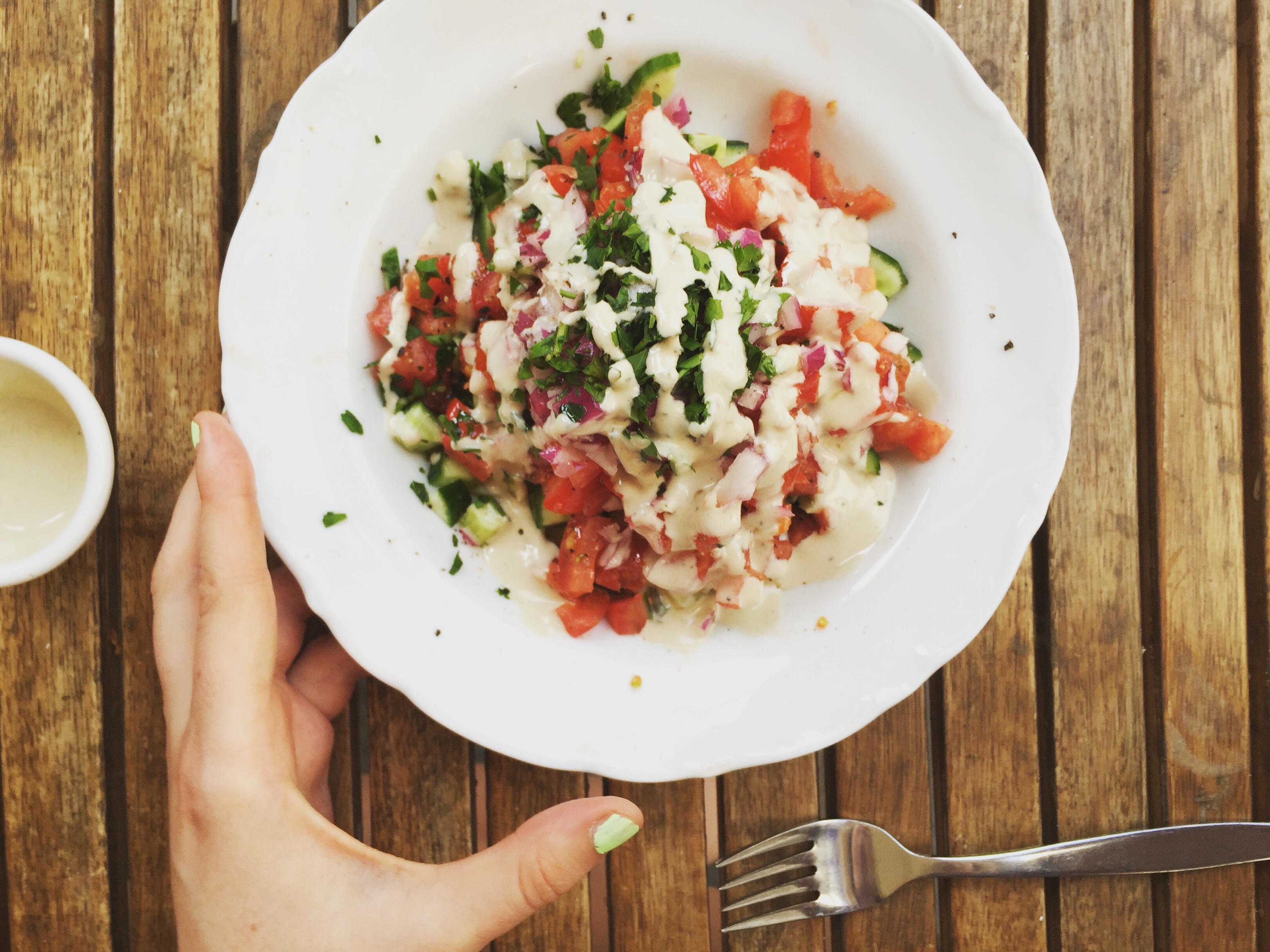 Shakshukia
Shakshukia will appeal to all North Americans because it is beautiful, Israeli brunch. Or lunch. Or dinner — it's whatever you want it to be, and at Shakshukia they really take that seriously.
The basics are a spicy tomato and red pepper sauce simmered at a low heat until the vegetables have combined, at which point eggs are added and poached in the liquid until they reach the desired consistency. It is eaten mostly by grabbing bits of egg and shakshuka with fresh bread of some sort and basking in the glory of this genius dish. At Shakshukia, one of the highest-rated restaurants in Tel Aviv on Trip Advisor, you can add tahini and hummus, meguez sausage, and a handful of other delicious ingredients to your shakshuka. Do order the Israeli chopped salad — their tahini dressing is different and worth tasting — and do chat with the owner, Sharon, who may offer to refill your wine glass if you chat with him about Tel Aviv.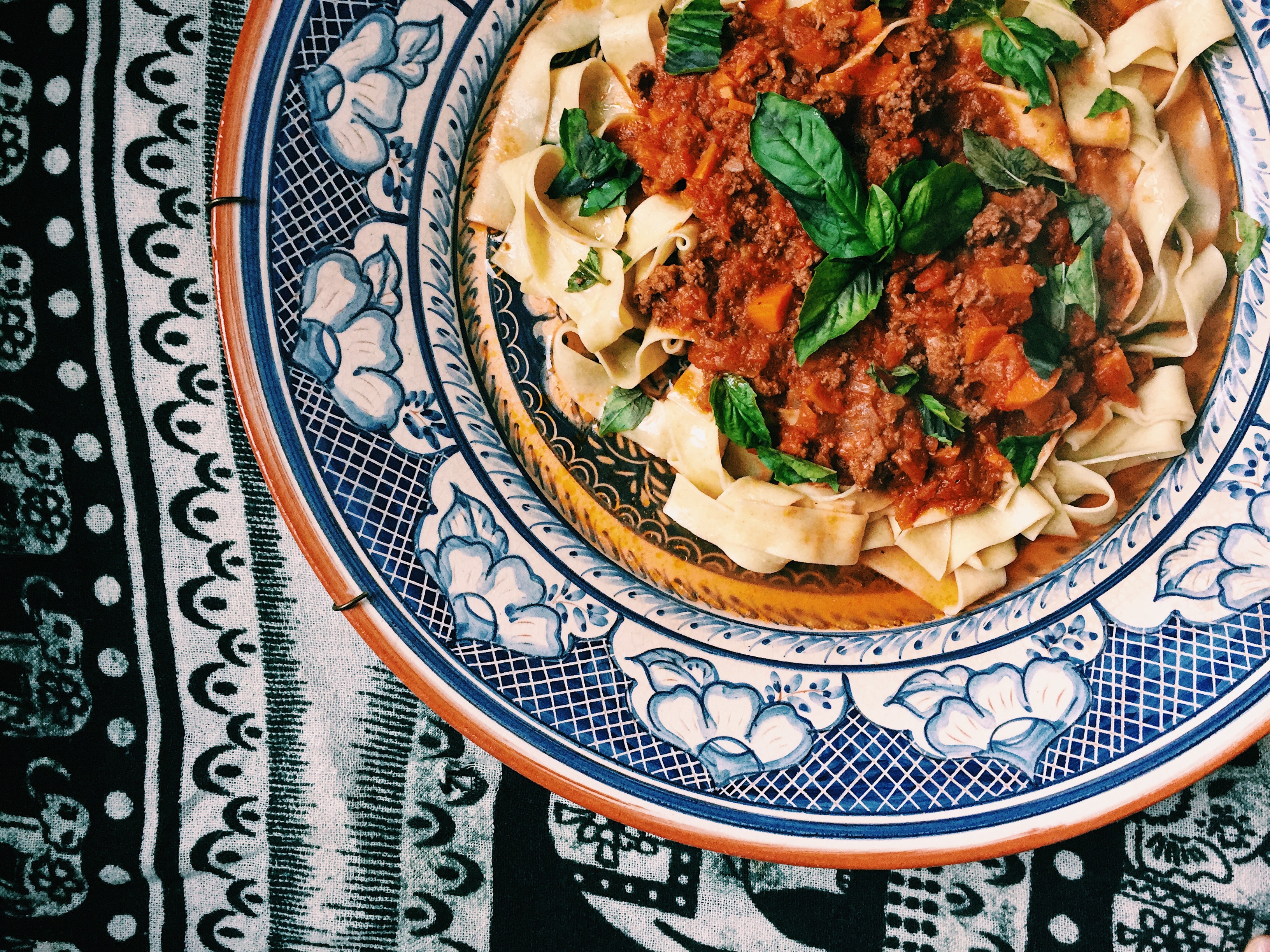 Pasta Basta
If you know me, you know that I have an intense and tortured relationship with pasta — specifically fresh pasta, because that is objectively the best kind of pasta.
I have said before that it was my first true love. Though it does not help me achieve my weight loss goals, I eat a lot of it. It is for this reason that I feel like I have a pretty good grip on what is good pasta vs what is bad pasta. And Pasta Basta is good.
Perched on the edge of Ha'Carmel Market, Pasta Basta boasts a list of five or so fresh, handmade pasta types which you can top with one of 9 or so different fresh, homemade sauces. It is simply delicious, and cheap as hell. I got this bowl of pasta and a glass of white wine for 40 sheckles.
Pro tip: work up your appetite by doing your grocery shopping/clothes shopping in the market first and then stop by here on your way out.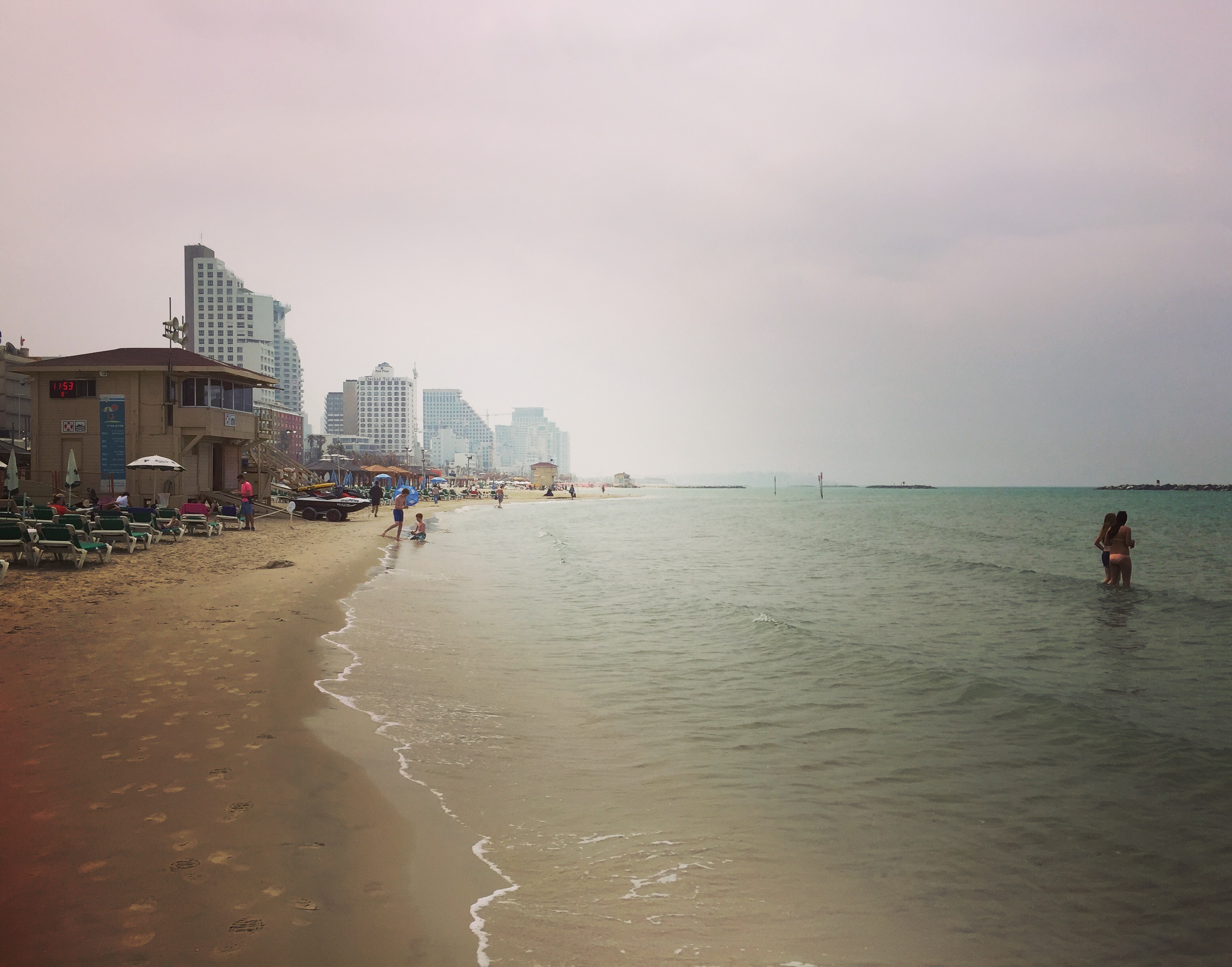 Real talk
Tel Aviv is a real city, so treat it that way. It was not built for tourists, it was built for people to live and work in. You could go to Old Man in the Sea and blow a shitload of cash on a mediocre meal, or you could go to Shlomo & Doron or Falafel Gabay where the locals go and eat the best for less.
Perhaps because it was not built for tourists, it's also easy to forget where in the world it is you, in fact, are. People who live here are just trying to live their lives, and if you're visiting for a long time like I am, you do the same. You can live in Tel Aviv pretty much the same way you would live in New York or Toronto — it is a very Western city.
Tel Aviv's relative Western-ness, I believe, makes it even more jarring for a Westerner (and especially a Canadian) to be reminded every so often of the conflict that exists within and that which surrounds Israel.
For example, you will encounter an IDF soldier holding an Uzi in the street. You will probably walk by the abandoned Dolphinarium, the site of a suicide bombing in 2001 which killed 11 people, whose very architecture and presence is a metaphor for the hole in Israeli society; though they live in this beautiful, vibrant, and in many ways progressive place, Israelis cannot be truly completely comfortable with all that surrounds them and all that they are implicated in. These things situate a tourist and has a tendency to humanize both peoples on either side of the conflict here. It makes you ask yourself, "wouldn't I just want to live without the constant threat of my home being destroyed?"
This is not to say one cannot enjoy this wonderful country as a tourist. I love Israel, I love its people, and I will be back here — I think I've made that pretty clear. I offer this point of view because coming face to face with these issues while you are here is unavoidable, and as North Americans we would do well to know a little more about this part of the world from primary sources. So, come to Israel, spend some time, and get a taste of what it really might be like to live here. In many ways, that is the best and most important part of travelling. Don't you think?
---
Thanks for reading! If you're interested in hearing from me next time I publish something new, you can subscribe to updates here.