What figs are good for
Today, I'm writing about a hidden food gem. A little nugget of nutritional and savoury glory. A tiny treasure box of complex flavours and textures: the California Fig.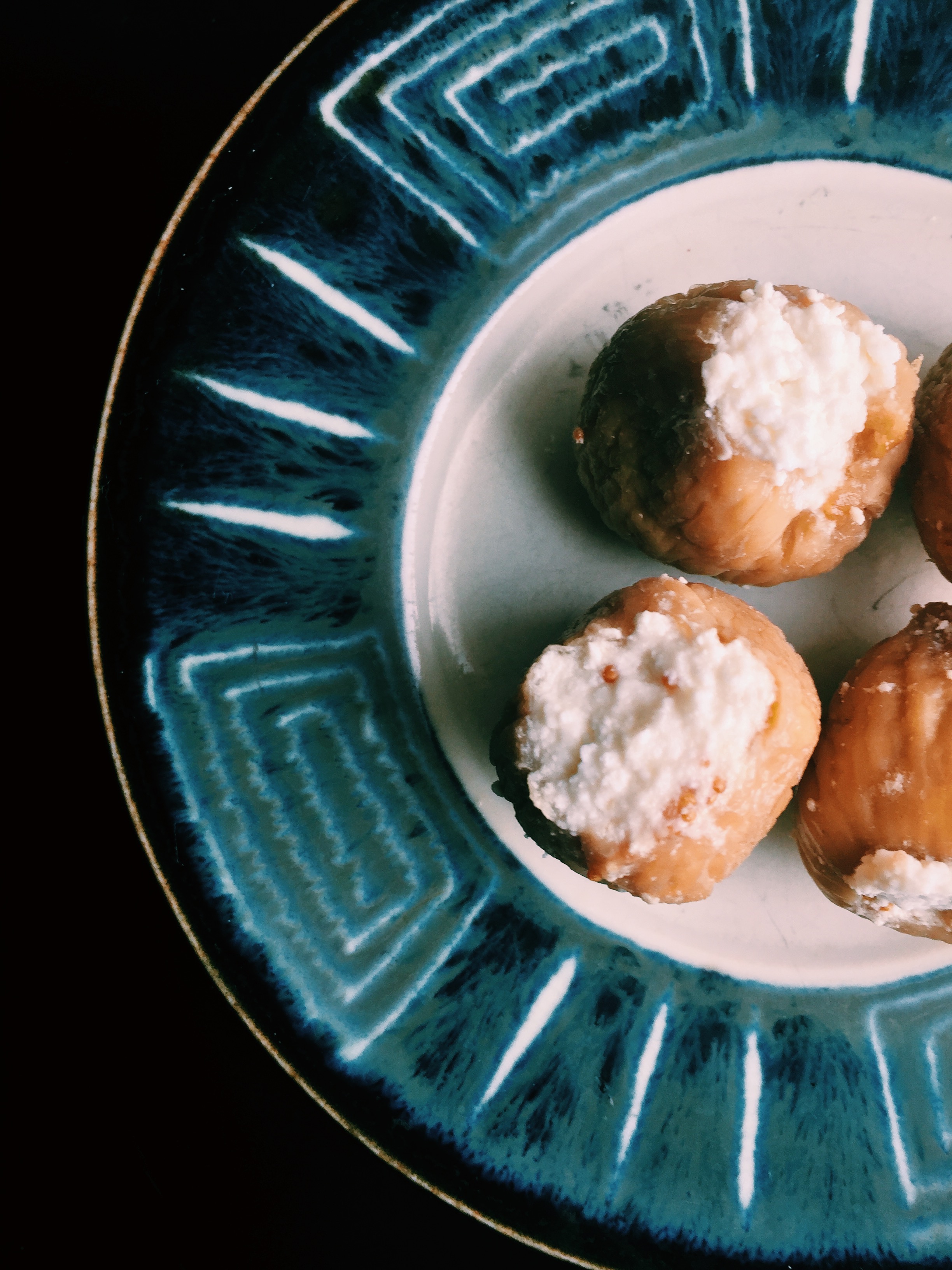 What's the big deal about figs? On top of being delicious and flexible from a gastronomic perspective, these little guys are a great boost for your health. Just a 1/4 cup/day (3–5 dried or fresh figs) can help you get 7% of your daily recommended potassium, 6% of your daily recommended amount of calcium, and 20% of your daily recommended amount of dietary fiber (which helps maintain healthy cholesterol levels and supports heart, colon, and digestive health). While also being high in antioxidants (which can help with inflammation), California Figs are an all-natural, fat-free ingredient which we would all benefit from adding to our diets.
Here are a few great way to get your figs in for the day, no matter what kind of person you are ;).
For the hostess: Cava-Soaked Ricotta Stuffed Figs (*drools*)
I ate these on a restaurant patio in Tel Aviv last year and thought they were genius. This is my attempt at re-creating them.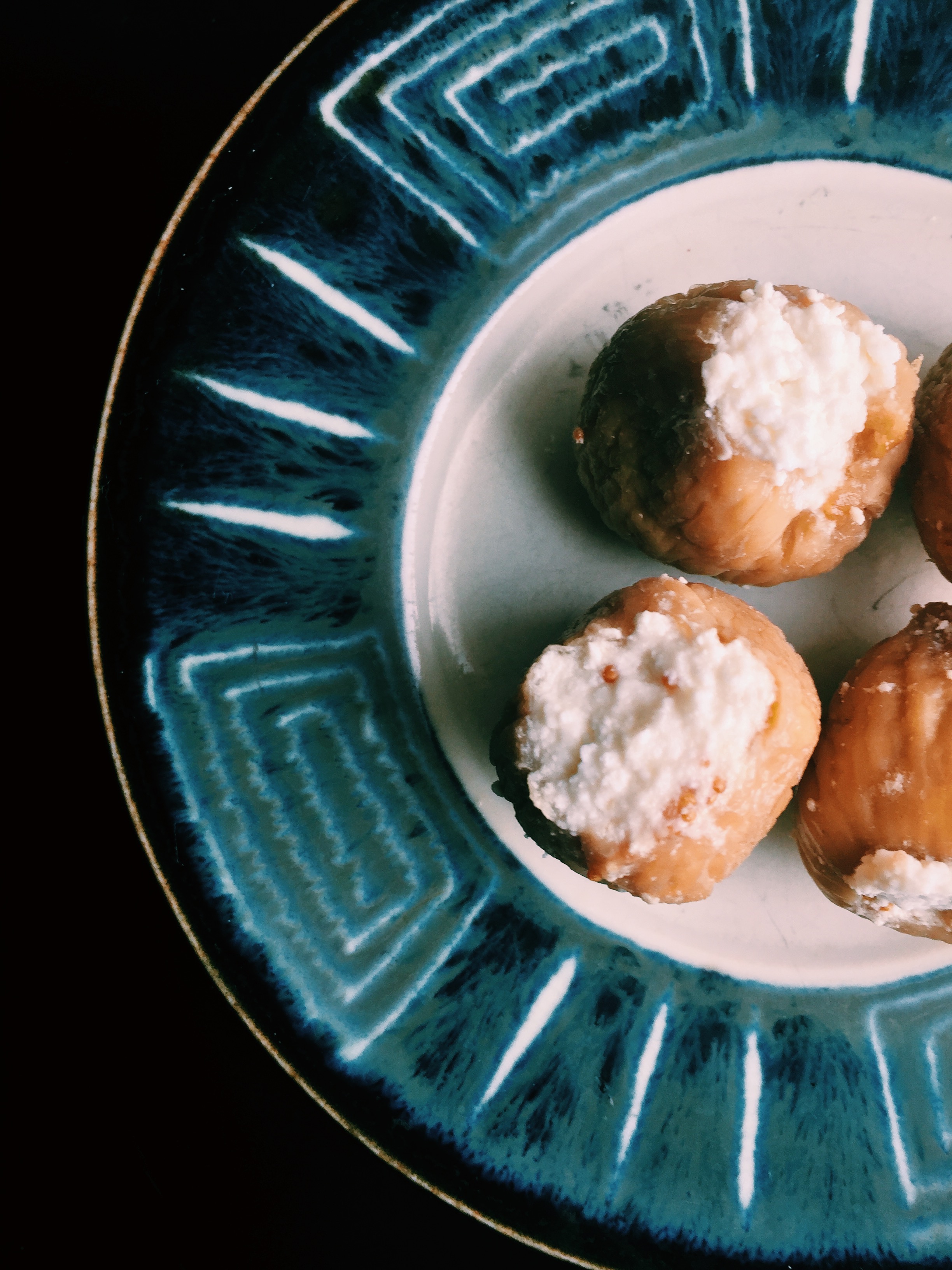 INGREDIENTS
- Ricotta cheese
- 10 dried California Figs
- 1 bottle of Cava
First, pour the cava over the figs in a large bowl and let them soak for at least 2 hours.
When you're ready, remove the figs from the cava. Either discard the cava, or use it to make champagne cocktails like this one.
Turn the figs so they face stem-up, and then cut out the middle of the figs one by one by placing your knife tip beside the top of the stem and cutting around it. Do the same for the other end of the fig.
Then, taking the end of a spoon, fold enough ricotta into the fig to fill it.
Discard the insides or use them to spread on toast tomorrow morning (or in the fig paste for the fig energy bars in the recipe below).
Presto. You have appetizers!
For the health nut on the go: California Fig Almond Bars
I've been eating these all week as a mid-afternoon snack — they've helped me stay full until dinner. Yay!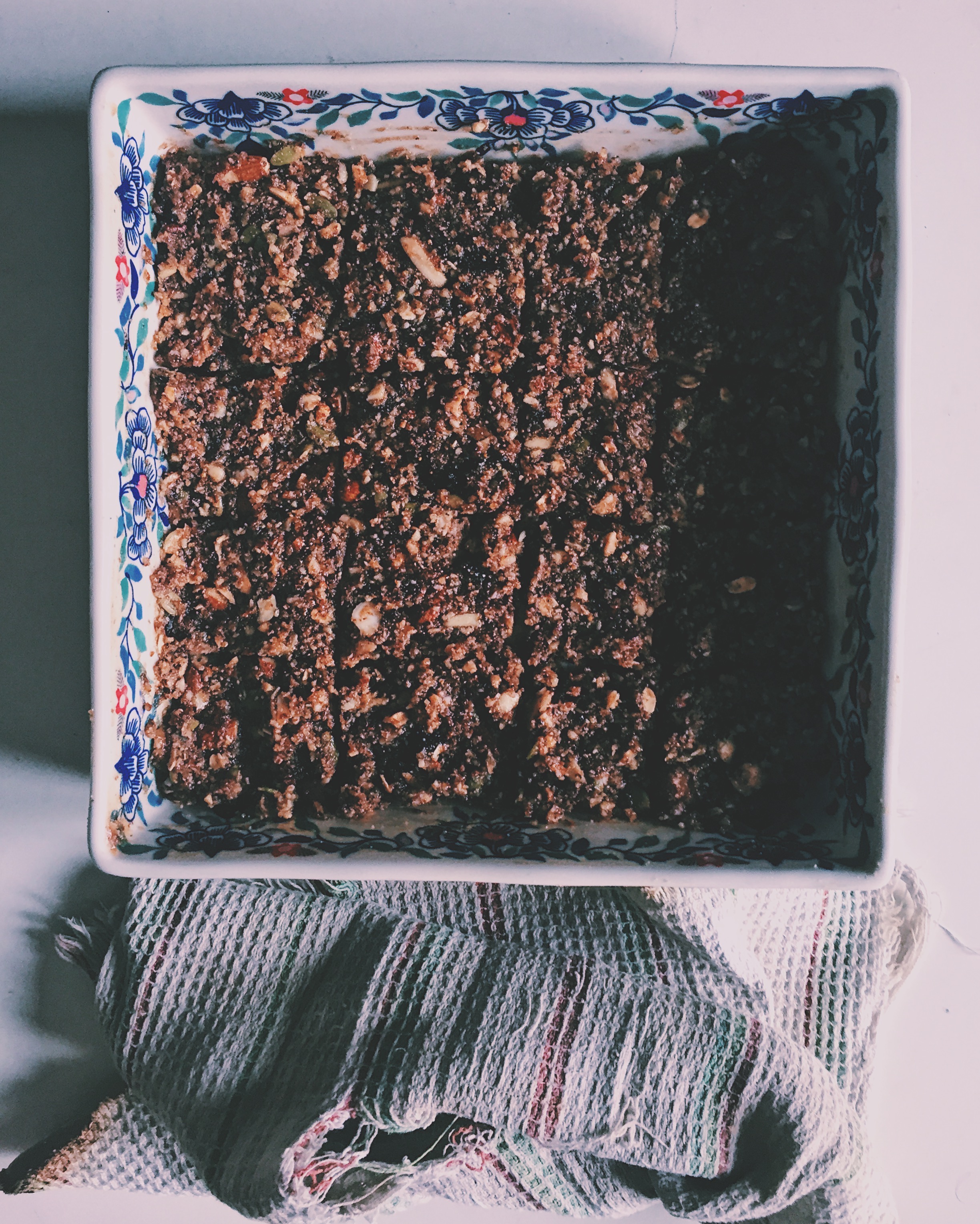 INGREDIENTS
- 3 cups whole, natural, roasted almonds
- 1 cup sliced almonds, toasted
- 1 cup thick rolled oats, toasted
- 1/4 cups almond flour
- 2 tablespoons ground flax seeds
- 1 teaspoon sea salt
- 1 1/2 cups California Dried figs, sliced into 1/4 in. cubes
- 1 1/2 cups pumpkin seeds, toasted
- 6 ounces honey
- 8 ounces agave nectar
- water, as needed
- 1 cup almond butter
- 1/3 cup cocoa nibs
- 1/3 cups fig paste
For the fig paste: place figs into a food processor and pulse for a few minute or until mixture is one thick consistency — you'll be able to see the seeds, but flesh and skins should be completely blended. You may need to add a couple more tablespoons of water as you go to soften slightly.
In a stand up mixer, combine the whole almonds, sliced almonds, oast, almond flour, flax seeds, sea salt, diced figs, and pumpkin seeds.
In a medium, heavy-bottomed sauce pan, add the honey and agave nectar; bring to a boil over high heat. Brush sides with water to prevent crystallization of syrup. Cook syrup to 240F, then remove from heat.
Add the almond butter and fig paste to the syrup mixture. Pour the almond butter and syrup mixture into the stand-up mixer. Using the paddle attachment, mix thoroughly. Alternatively, you may mix by hand with a wooden spoon.
Layout the mixture on a baking tray lined with parchment paper. Cool in the refrigerator for 20 minutes.
For the dessert fiend: Salted Caramel Chocolate Figs
Honestly, these are just deluxe. But they are also versatile: pop them into your mouth in the bathtub, serve them up for dessert at your next party, or bring them as a hostess gift. YOU HAVE SO MANY OPTIONS.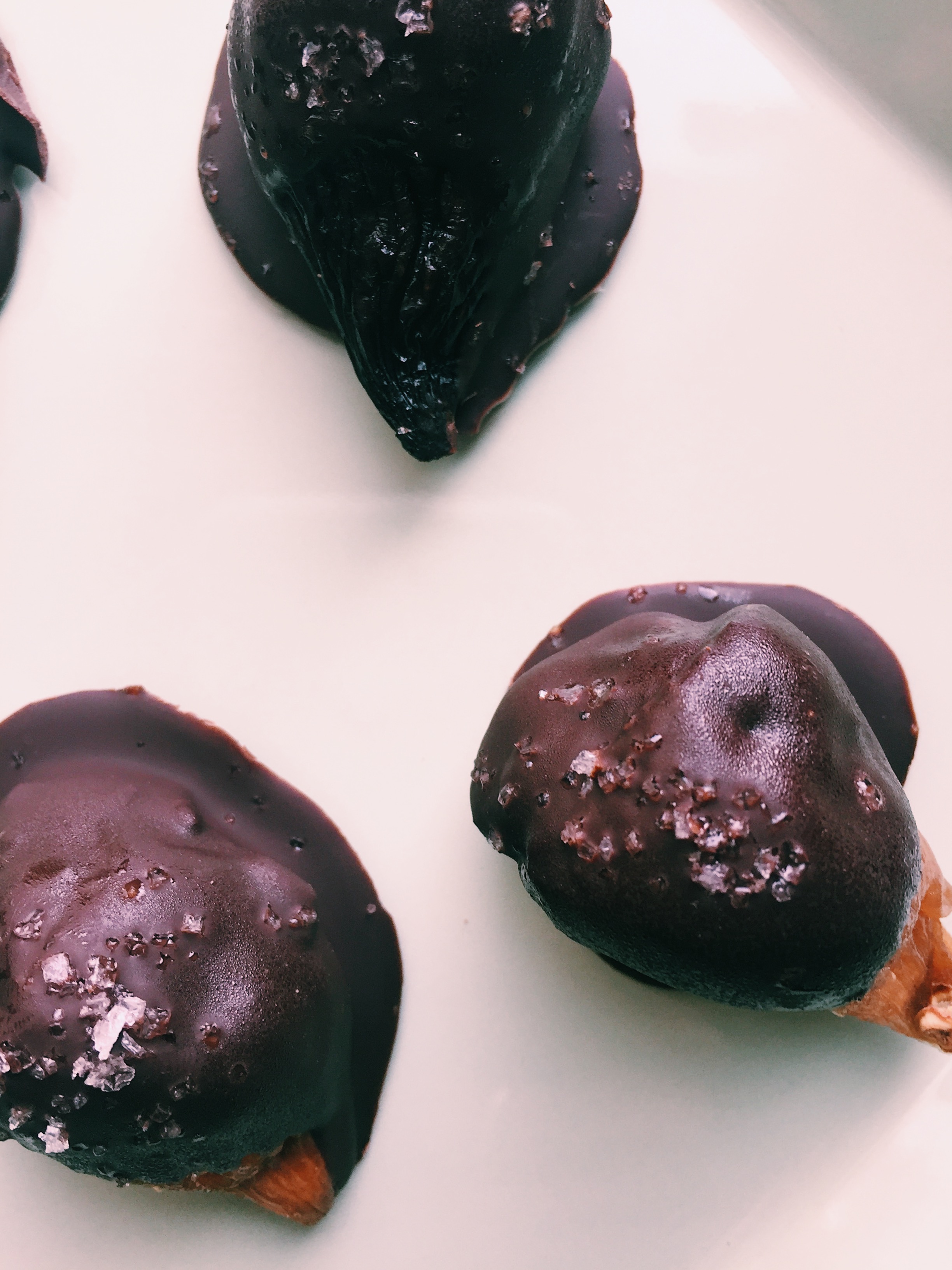 INGREDIENTS
Makes 30 chocolates.
- 1/2 cup heavy cream
- 1/4 teaspoon pure vanilla extra
- 6 tablespoons butter, sliced
- 2 cups light brown sugar
- 30 large California Dried Golden Figs
- 1 pound bittersweet chocolate, divide
- sea salt, as needed (Maldon brand recommended)
Line a baking sheet with parchment paper and set aside. Combine cream, vanilla, butter, and brown sugar in heavy-bottomed saucepan. Heat and store over low heat until sugar is dissolved and butter is melter. Bring to a boil; cover. Reduce heat to low and cook for 3 minutes, making sure the mixture does not boil over. Remove cover; increase heat to medium and continue cooking until caramel reaches 280F. Pour onto prepared baking sheet and cook at room temperature.
Meanwhile, slice off the bottom of each fig and make a well by using the back of a 1/2 teaspoon measurer into the cut end of the fig, creating a well. When caramel is warm enough to handle, measure 1/2 teaspoon portions and press into fig wells, smoothing across opening.
Next, place 12 ounces of chocolate in the top of a double broiler over hot water and stir frequently until melted and smooth. Remove from heat and add remaining 4 oz. chocolate. Stir until melted and smooth.
Using tweezers or tongs, dip each caramel-filled fig into the melted chocolate. Lay flat side up onto parchment-lined sheet tray. Let stand about 1 minute, and sprinkle lightly with sea salt just before the chocolate sets.
---
Where can you buy California Figs in Toronto?
California Figs are available at grocery stores throughout the city. Just look for California or USA (100% of dried figs produced in the U.S. come from California!) on the package.
I wish you all the best in your fig endeavours. Feel free to reach out if you have any questions!